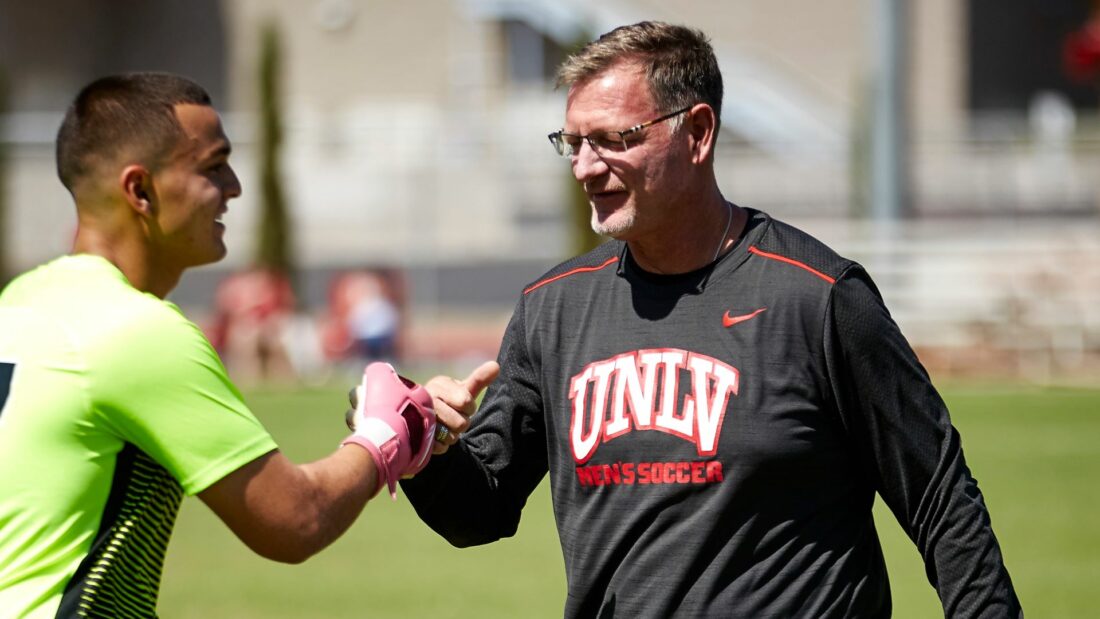 UNLV Men's Soccer's Rich Ryerson to Coach Final Season This Fall
UNLV men's soccer head coach Rich Ryerson announced Monday that the fall 2021 season will be his last leading the Rebel program.
"It has been an absolute honor to steward the UNLV men's soccer team for the last 11 years, and I could not be more proud to serve one more season this fall," Ryerson said. "I am so very proud of the accomplishments of all of our student-athletes through the years with our graduation rates, championships, Major League Soccer signings, and the tremendous volunteer work throughout our community."
Ryerson, who will enter his 12th season as head coach this upcoming fall, took over the program in the Spring of 2010 after spending the previous two years as its assistant coach. In 2014, he led the team to its first NCAA Tournament appearance in 26 years and subsequently recorded its first NCAA Tournament win in 29 seasons in 2016.
"We appreciate the many years of hard work and dedication that Rich has devoted to UNLV," UNLV Director of Athletics Desiree Reed-Francois said. "From a player to coach, Rich has made an incredible impact on so many student-athletes, our program and soccer in the Las Vegas Valley. While he is departing from this head coaching role, we know he will continue to be connected to UNLV Athletics."
Ryerson led UNLV to the Western Athletic Conference's regular season and tournament championships in 2014 and to the conference tournament title again in 2016. He was named the WAC Coach of the Year and NSCAA Region Coach of the Year in 2014.
"Rebel soccer is dear to my heart as an alumnus, as well as for my three brothers and nephew who represented the university as part of the program," Ryerson continued. "I would like to thank Desiree for her confidence as I transition my career from the soccer field to my next opportunity. Additionally, thank you to the UNLV Soccer Foundation and our Valley's soccer community for all of their support over the years."
Ryerson, the fifth head coach in program history, met a challenge in 2010 when the program was in jeopardy of being cut because of the budget situation by leading its fundraising charge. Under his watch, five Rebel soccer players have heard their name called during the MLS Draft: Salvador Bernal in 2015, Bradley Kamdem in 2016, Danny Musovski and Kevin Partida in 2018, and Timo Mehlich in 2019.
One of four Ryerson brothers to play for the Rebel men's soccer program (Rob, Kenny, Tim), Rich was a four-year starting defender/midfielder for UNLV from 1983-86 and led the team to three NCAA Tournament appearances along with three straight conference championships as a student-athlete. During his junior season, the Rebels posted a program-best 18-2-2 mark and a No. 4 final national ranking. That 1985 squad was inducted into the UNLV Athletics Hall of Fame in 2010.
A national search for his replacement will commence in the fall.