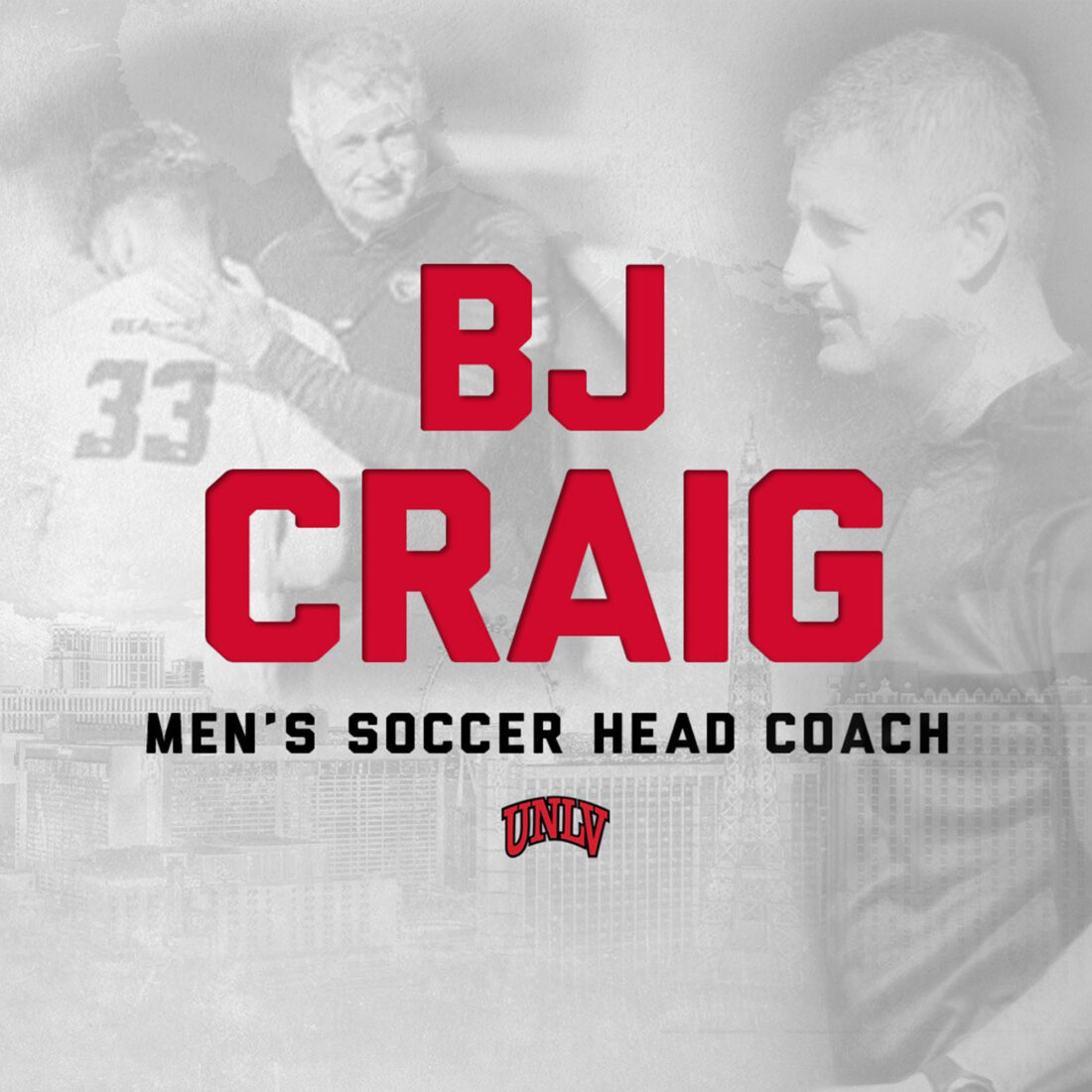 BJ CRAIG CHOSEN TO LEAD UNLV MEN'S SOCCER PROGRAM
LAS VEGAS (UNLVRebels.com) — BJ Craig has been named the new head coach of the men's soccer program at UNLV, Director of Athletics Erick Harper announced Thursday.
Craig comes to Las Vegas after serving as Oregon State's associate head coach for the last four seasons. Prior to OSU, Craig held positions as assistant and associate head coach at Notre Dame over a 10-year span (2008-18), assistant coach at Louisville in 2007, and head coach for four years (2003-06) at Saint Francis University (Pa.).
"BJ has coached collegiate soccer at the highest levels over the past 18 years, including this past season's top NCAA seed in Oregon State and with a national championship team at Notre Dame in 2013," Harper said. "He has a clear vision for where he intends to take our program and understands the importance of student-athlete development and achievement, both academically and athletically. He has a strong recruiting plan and coaching philosophy and we are confident he is prepared to take UNLV men's soccer to the next level."
Craig brings a breadth of NCAA Tournament experience to the Rebel program as he helped guide the Beavers to the Big Dance three times, the Irish to nine tournament appearances and the Cardinals to one trip. Most notably, Craig was on the coaching staff when Oregon State made a run to the Elite Eight as the overall No. 1 seed in 2021 and when Notre Dame won the 2013 national title.
"I am thrilled with the opportunity to become the next head coach of the UNLV men's soccer program," Craig said. "I am thankful and fortunate to have worked alongside so many great people over the years and the same is true for me now at UNLV. I am grateful to Erick Harper, Chris Pugh, and the entire search committee for trusting me to lead this program going forward. I also want to recognize Rich Ryerson for his dedication and devotion as a player and coach over the years, along with the many alumni at UNLV who have given both on and off the field, helping to leave the jersey in a better place. We will continue to build on this legacy and make everyone proud. I can't wait to get started."
Along with coaching teams to national success, Craig's squads have come out on top of their conference a combined five times – the most recent being the Beavers' first-ever outright Pac-12 Championship this past season. Additionally, his Irish teams hoisted four conference trophies.
Under his leadership, Craig's former players have developed into some of the best in the country. He coached a MAC Hermann Trophy winner, three All-Americans, one Pac-12 Freshman of the Year and 20 All-Pac 12 selections in Corvallis, as well as 24 MLS draft picks, 10 All-Americans and 40 all-conference honorees in South Bend.
Among the most notable former players to train with Craig at his previous coaching stops are five-time MLS All-Star and 2012 MLS Defender of the Year Matt Besler and 2012 All-Star Justin Morrow. The duo has also earned caps with the United States Senior National Team.
Throughout his 20-plus years of coaching, Craig has received various accolades. His recognition includes forming part of the 2021 United Soccer Coaches Far West Regional Staff of the Year, the United Soccer Coaches Glenn "Mooch" Myernick National Assistant Coach of the Year in 2014, South Region Assistant Coach of the Year in 2013 and NEC Coach of the Year in 2013. He was also named among College Soccer News' Top Assistant Coaches list over a period of three straight years (2012-2014).
The long list of Craig's student-athletes' achievements not only pertains to the soccer pitch, but also extends into the classroom as demonstrated by one CoSIDA Academic All-American and two CoSIDA Academic All-District honorees under his tutelage at Oregon State. During his tenure at Notre Dame, he helped produce 11 CoSIDA Academic All-Americans and two United Soccer Coaches Scholar Athletes of the Year.
A former student-athlete himself, Craig lettered one year at the University of Massachusetts Lowell and earned two more letters after transferring to Gordon College. During his time at Gordon, he helped lead the Fighting Scots to a Commonwealth Coast Conference title in 1992. Shortly after his playing career, Craig served as assistant coach at Dartmouth (1998-2003) and his alma mater, Gordon College (1995-96). He is a member of the NSCAA and holds a United States Soccer Federation (USSF) B License.
Craig graduated with his bachelor's degree in mathematics from Gordon College in 1993 and later earned his master's degree in education from UMass Lowell in 1997. He and his wife, Erin, have four children, Noah, Micah, Jonah and Mattea.