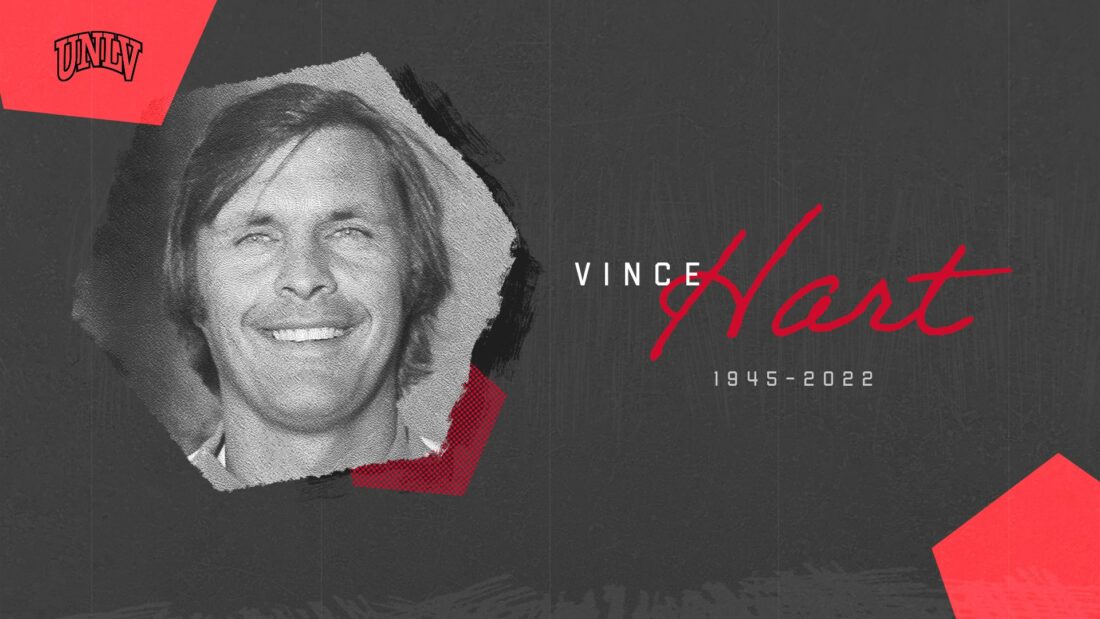 UNLV Athletics Mourns Passing of Vince Hart
LAS VEGAS (UNLVRebels.com) — UNLV Athletics mourns the passing of former Rebel men's soccer head coach Vincent "Vince" Hart, who passed away Monday.
Hart was one of the pioneers of Rebel soccer, coaching the team from its third year of existence as an intercollegiate varsity sport in 1976 through the 1981 season. He leaves a legacy of achievements that may never be repeated. Hart's UNLV teams compiled a 67-47-2 record and found immediate success as his first squad won 11 consecutive games, a program record that still stands 46 years later.
"Vince changed the trajectory of my life," UNLV alum and Downtown Las Vegas Soccer Club President Roger Tabor said. "There's a lot of guys from those teams that would say the same thing. He was an old-school, no-nonsense coach, but his passion and work ethic were off the charts."
Hart matriculated to UNLV and joined the football team as a placekicker in 1971. Hart etched his name into Rebel lore by kicking a 41-yard field goal for the program's first points in Sam Boyd Stadium (then Las Vegas Stadium). Hart was one of the original "soccer-style" kickers that invaded American gridirons in the 1970s—his angled approach and instep contact patch replacing the straight-ahead, toe-kicking seen through the first century of the game's existence. On one notable point-after-touchdown attempt, a misfired snap floated over the holder's hands but Hart volleyed the football in mid-air through the uprights. The officiating crew, who had never seen anything like it before, huddled for six minutes before awarding the extra point.
Between stints as a student-athlete and coach at UNLV, Hart played in and worked for the Las Vegas Adult Soccer League while serving as an assistant at Valley High. Following his time with the Rebels, he returned to high school coaching and remained an influential figure in the growth and engagement of Southern Nevada's soccer community for the next four decades.
"There was hardly a budget for the program at the time, but Vince created a viable program that had success," Tabor said. "I don't think the UNLV men's soccer program would be around today if Vince hadn't soldiered on. A lesser man would have given up."
Hart, whose father served in the English military and mother was a German refugee, was born in Jerusalem in 1945 at the conclusion of World War II and raised in Yorkshire, England, until his family immigrated to the United States in 1960.
At 16, he captained an under-19 squad coached by National Soccer Hall of Fame member Steve Negoesco that became the first team west of St. Louis to win the James McGuire Cup, youth soccer's national championship. He was a three-time all-city soccer player at George Washington High School in San Francisco and moved to Las Vegas, graduating from Las Vegas High in 1962. Negoesco, newly hired at the University of San Francisco, offered a college scholarship, but Hart opted to fulfill his dream of playing professional soccer and signed contracts with clubs in New Zealand and Australia. In 1966, Hart was selected to play on the U.S. team in the Pan American Games, but was ruled ineligible to participate because he was not then a U.S. citizen.
Hart married his wife, Diane, in 1967, then graduated from UNLV in 1972 with a bachelor's in physical education. He acquired his U.S. citizenship in 1975.
Hart is survived by his wife, son Trevor, and a grandson.