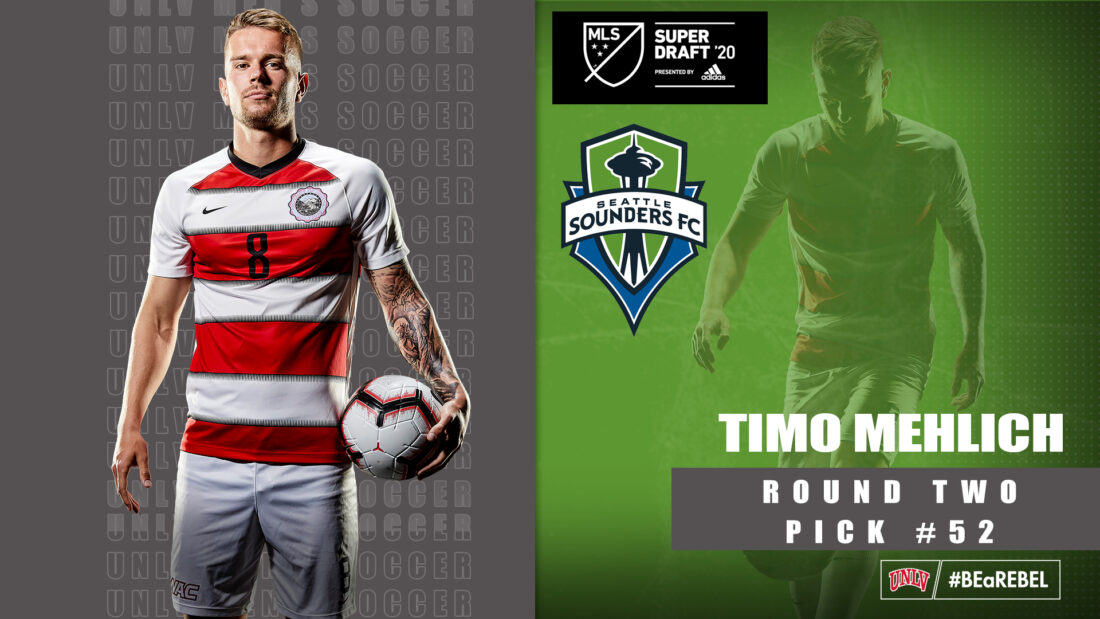 UNLV'S Timo Mehlich Drafted 52nd Overall in MLS Superdraft by Seattle Sounders
UNLV senior midfielder Timo Mehlich became the latest Rebel to reach the professional level as he was selected with the final pick of the second round (52nd overall) by the Seattle Sounders Thursday in the 2020 MLS SuperDraft in Baltimore, Maryland. Mehlich is the fifth Rebel to be drafted by the MLS over the past six years and first second-round pick since Danny Musovski went 31st overall in the 2018 Superdraft.
"I couldn't be more delighted and proud of this accomplishment for Timo," said UNLV head coach Rich Ryerson. "The city of Seattle has been a great venue for him to play for in the past, it's a great situation for him and we know he will be a great representative of our program." 
He recently became the first Rebel to ever earn All-WAC honors four straight years after being selected first team all-conference, while he also picked up United Soccer Coaches All-Far West Region Second team honors, the second regional honor of his outstanding career for the Scarlet and Gray. A native of Mönchengladbach, Germany, Mehlich finished third in the conference with 11 goals on the season, and was fourth in total points with 23, both team highs. He had three multi-goal games during the season, starting with two goals in a minute span in a win at Pacific that earned him WAC Player of the Week honors. Mehlich also scored twice in the second half to rally UNLV past San Jose State for a 2-1 victory, while during his first career hat trick that came in a 4-1 win over Kansas City, two of his three goals came in a 63-second span.
Previous Rebels that were drafted by the MLS include: Victor "Boomer" Arbelaez as the 30th pick in 2005, also by San Jose, Rod Dyachenko as the 31st pick in 2006, Danny Cruz, 41st in 2008, Salvador Bernal, 72nd in 2015, Bradley Kamdem, 58th in 2016, and in 2018 two Rebels were drafted, Musovski (31st by San Jose) and Kevin Partida (58th by San Jose).