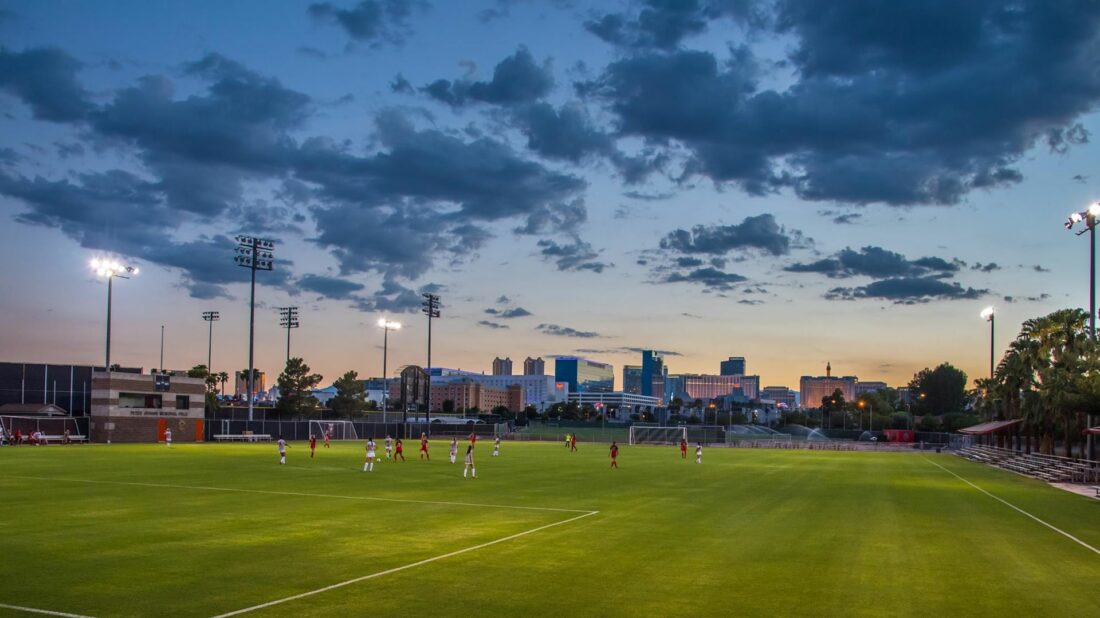 Jenny Ruiz-Williams Chosen To Lead Women's Soccer Program
LAS VEGAS (UNLVRebels.com) – Jenny Ruiz-Williams has been named the new head women's soccer coach at UNLV, Director of Athletics Desiree Reed-Francois announced Tuesday.
A former Rebel standout as a student-athlete from 2001-04, she returns to her alma mater after serving as an assistant coach at Cal State Northridge, then Oregon State.
"We are extremely fortunate to have Jenny rejoin the Rebel family and are thrilled to welcome back one of our own to begin her head-coaching career," Reed-Francois said. "From our initial conversation, her passion for UNLV was evident. She personifies our core values and has the energy to build a championship program."
This past season, Ruiz-Williams was instrumental in the Beavers' success as they recorded their best mark in eight years (11-6-2). As part of a first-year coaching staff, she assisted in a remarkable turnaround as the team had its best start to a season in program history, going 8-0-0 after the 2018 squad finished with an overall record of 2-17-0.
Ruiz-Williams coached an OSU defensive unit that allowed just 19 goals over the course of the season, including only three during non-conference play. Under her leadership, the team combined for four consecutive shutouts for the first time since 2007. OSU had two Top 100 Freshman recognitions along with players selected to the National Team of the Week as well as National Player of the Week honors. Additionally, the team received the 2019 United Soccer Coaches' Academic Award with a 3.42 grade point average.
"I want to thank Desiree for this opportunity," Ruiz-Williams said. "She is an amazing leader and I am thrilled to work under her guidance. A huge thank you to my entire family for their never-ending support, and I would also like to thank Mallory Poole, Chris Pugh, the search committee, the UNLV Soccer Foundation and all of the wonderful people that I was blessed to interact with during this process."
Ruiz-Williams also has served as a coach for the Real SoCal Soccer Club, a director and coach for the Nashville Football Club and she has worked as a selection and district training coach for the Tennessee Olympic Development Program and Player Development Program.
"I am blown away by the growth, innovation and camaraderie within the UNLV Athletics Department," Ruiz-Williams said. "There is a new chapter being written in the history of UNLV Athletics and it is something you don't want to miss out on."
During her four-year playing career with the Rebels, Ruiz-Williams helped the team become one of the top defenses in the Mountain West and earned All-MW recognition twice. She was a part of the UNLV team that won a regular-season conference title and clinch its first-ever NCAA Tournament appearance in 2004. She was also named to the All-MW Tournament squad as a senior. Prior to attending UNLV, she was a U-16 national champion and U-17 national runner-up.
"Jenny has great familiarity with youth soccer in California and throughout the West Coast, which will be invaluable for our program, and her tenacious spirit was unmatched through this process," Reed-Francois added. "Thank you to Mallory (Poole) and Chris (Pugh) for their outstanding leadership during this search. We had a very strong pool of candidates."
The seventh head coach in UNLV women's soccer history, Ruiz-Williams competed for the Mexican National Team at the highest level, earning medals at three Pan American Games, qualifying for the Olympics and playing at the FIFA World Cup. Her professional career extended beyond her national playing time, completing stints with both the Bay Area Breeze (Women's Premier Soccer League) and Seattle Reign FC (National Women's Soccer League) before returning to the college game to begin her coaching career.
"Coming back to Peter Johann Memorial Field with the Rebels is truly a dream come true for me," Ruiz-Williams said. "My husband and I are so grateful for the experiences we enjoyed as Rebel student-athletes and for the positive impact the university had on us. It is now my privilege to be able to serve the school, its amazing student-athletes and the incredible Las Vegas Valley community that I love so much."
Ruiz-Williams earned her communications degree at UNLV in 2005 and also holds a master's degree in education from Loyola Marymount (2007). She is also a licensed United States Soccer Federation National A- Senior Coach and a Regional Coach with the Olympic Development Program.
She is the sixth UNLV graduate in any sport to go on to become a head coach at the school and she is married to former UNLV swimming & diving student-athlete Kevin Williams. The couple has two children, Paige and Levi.