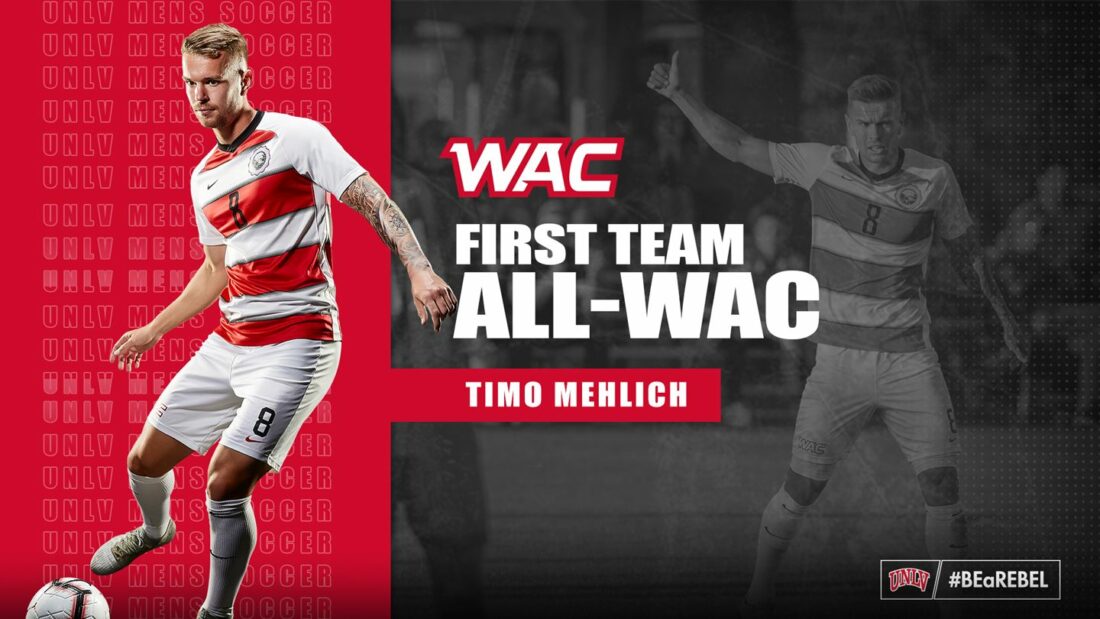 Mehlich Sets Record With Fourth Straight All-WAC Award
LAS VEGAS (UNLVRebels.com) – A pair of UNLV Rebels picked up season honors Tuesday night, as the Western Athletic Conference announced its postseason men's soccer awards at the pre-tournament banquet in Colorado Springs, Colorado. Timo Mehlich was a first-team honoree while Billy Jones was an honorable mention selection.
Mehlich is the first Rebel to ever earn All-WAC honors four straight years, and the first Rebel to be named all-conference four years in a row since Sal Bernal was All-MPSF in 2010 and 2011 and All-WAC in 2012 and 2013. A senior midfielder and native of Mönchengladbach, Germany, Mehlich finished third in the conference with 11 goals on the season, and was fourth in total points with 23, both team highs. He had three multi-goal games during the season, starting with two goals in a minute span in a win at Pacific that earned him WAC Player of the Week honors. Mehlich also scored twice in the second half to rally UNLV past San Jose State for a 2-1 victory, while during his first career hat trick that came in a 4-1 win over Kansas City, two of his three goals came in a 63-second span.
Jones, a junior defender from Auckland, New Zealand in his first year with the Rebels after transferring from New Mexico, earned all-league honors despite missing the first three games of the WAC season while starting for the New Zealand Olympic Qualifying Team in an Olympic Qualifier tournament in FIJI. He helped his country earn a berth in the 2020 Tokyo Olympics, then came back to the team and promptly helped them to a four-game unbeaten streak. With Jones in the lineup, the Rebels went 4-3-1 in league play, as he anchored the Rebels' defensive backline.