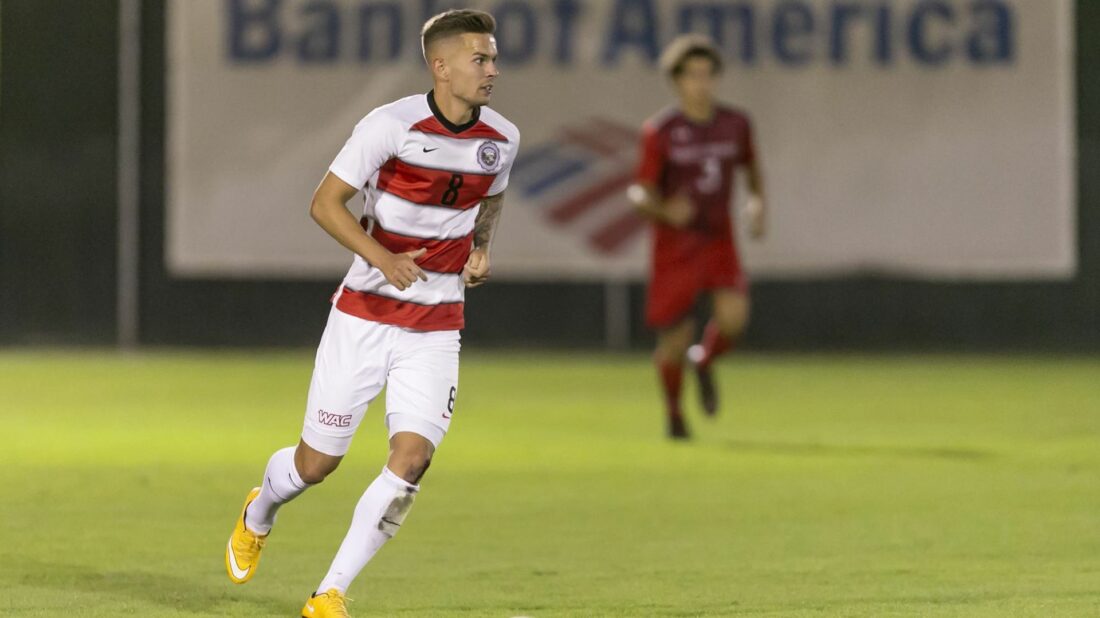 Mehlich Hat Trick Leads Rout Of Kansas City
LAS VEGAS (UNLVRebels.com) – Timo Mehlich turned in a career performance in the first of the two final home games of his career, as the UNLV senior posted the first hat trick of his career with three second half goals as the Rebels blitzed Kansas City 4-1 Friday night in WAC men's soccer action at Peter Johann Memorial Field. The win increased UNLV's unbeaten streak to four games, and has moved the Rebels into a tie for fifth place in the league standings at 3-3-1 (10 points), passing the Roos who dropped to eighth place (3-4) as their three-game win streak was snapped.
The Rebels took awhile to get their offense flowing, as it was a scoreless game until the 43rd minute when Connor Ryan scored his first goal of the season for a 1-0 lead, off an assist by Skyler Goo. The goal energized the UNLV squad going into halftime, especially Mehlich. He would score back-to-back goals just 64 seconds apart in the 48th and 50th minutes to quickly push the Rebels ahead by a 3-0 margin. KC broke up the shutout in the 51st minute with a score, but the game would be sealed shortly after when the Roos' Mikhail McComie was redcarded following a hard foul, leaving the visitors shorthanded the rest of the way. Mehlich then converted a penalty kick in the 66th minute for a 4-1 lead, while giving him the first hat trick at UNLV since Marco Gonzalez scored three times in a 4-1 win over Evansville on Aug. 26, 2018.
UNLV finished with a season-high 28 shots, to just nine for the Roos, while shots on goal were 9-2 in favor of the Rebels.
NEXT UP: Sunday will be Senior Day for Mehlich and four more Rebels, as UNLV hosts Houston Baptist in a 1 pm contest at Johann Field. That will be the second game of a doubleheader, as the Rebel women will play Colorado State at 10 am.