Men's Soccer 9/10/19 Update from the Soccer Yoda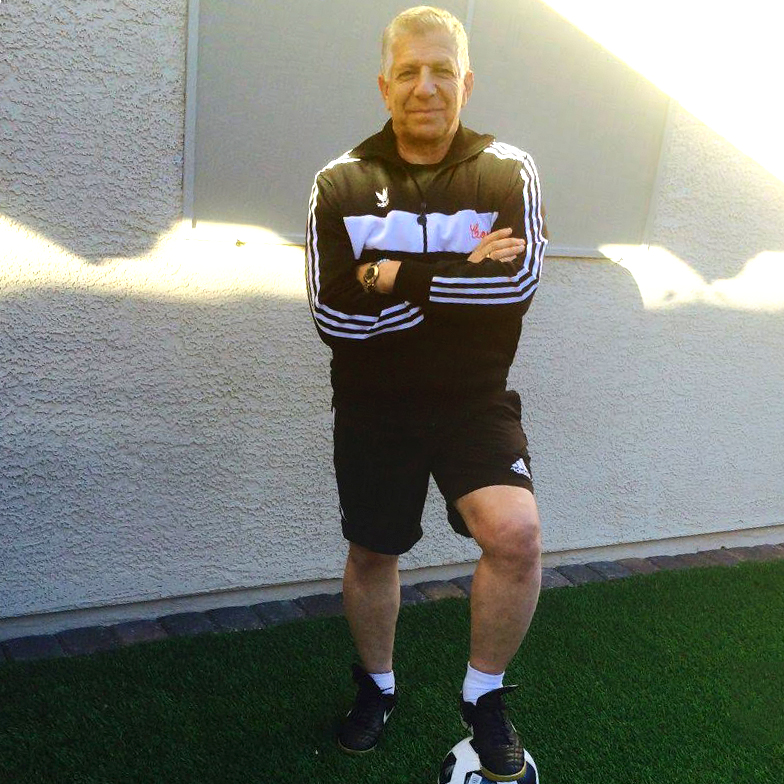 Prior to their game with Omaha, one thing that could have definitely been said about the UNLV men's 2019 soccer season was that it had been exciting. The Rebels had seen and scored plenty of goals during their matches and had experienced plenty of tension. They had seen leads lost, leads gained, had engaged in a furious comeback and had experienced two overtime games and all in only three matches. Play was up and down the field and never boring. The thing was, however, that all three games were losses and more of those goals were scored against the Rebels than by them. But that all changed against Omaha.
It's a major soccer truism that if the ball is on your feet, the opposition can't score and UNLV kept the ball on its feet very effectively during this match. In the first 2 minutes Rebel goalkeeper Lukas Betz was stretched to save an early shot by Maverick forward Diego Gutierrez. But that offensive thrust by Omaha was a rarity during most of this match. UNLV played its standard 4-3-3,but playing John Lynam together with Bryan Martinez up top for the first time along with Marco Gonzales changed the attacking scenario for the Rebels. This group of three forwards moved well. They checked back to help possession, they interchanged often, they made important diagonal runs, they forced the Omaha defense to scramble to keep up with them.
Not long after that early shot the Rebels midfield possession and movement forced an Omaha foul. The ensuing clear by the Mavericks was gathered by UNLV and as the ball came up the right, Bryan Martinez found Bailey Letherman who hit a 22 yd screamer from beyond the D. The ball hooked right and took Omaha keeper Ugo Tritz by surprise and he although he got to the ball, it managed to get through his hands and the Rebs were up.
UNLV continued to work an excellent short game and at 20 minutes Timo Mehlich forced a good save at the lower far post. 3 minutes later Martinez took another dangerous shot and at 33 minutes the Rebels worked the goal of the season so far. They worked the ball up the left using the possession play that had earmarked them in this match and the ball found Martinez making a diagonal run to the left. Marco Gonzales played it into him and he heel-passed a brilliant ball back to Marco who scored. For the remainder of the half the visitors kept the home standing Mavericks from mounting any real attacks and the half ended at 2-0 Rebels.
The second half saw Omaha change to a three-man back line in an attempt to put more pressure on UNLV and it produced quick results in the form of a tough shot that Betz gathered at the near post. Of course, pushing up like the Mavs were doing offers the opposition chances to counter and Timo had a good shot blocked off a very good counter attack movement. But Omaha was sensing more opportunities and they forced 2 corners at the ten minute mark although nothing came of them. And two minutes later they sprung Gutierrez who forced Betz to parry a hard shot which was rebounded into the goal by Vlad Jokic to pull Omaha to within a goal of equalizing.
It is said that the most dangerous time for a soccer team is right after they score and UNLV proved that to be the case. If anything, Omaha's goal encouraged them to push up even more and only 2 minutes after the score, Tyler Allen pushed a long low pass to a running Martinez. The Mavericks misjudged the pace of the ball and Bryan controlled it without breaking stride. He followed that with a measured shot that beat Omaha's second keeper (Tritz had been replaced) Jeremy Pollard.
Finding themselves down by two again, so soon after scoring, had a definite effect on Omaha. And, to the Rebels credit, they made sure that the same thing didn't happen to them. They kept possession when they had it, they made sure not to overcommit on any passes, they played smart when they did go forward. In other words, they managed their lead well.
This play still produced some good moments for UNLV. At 23 minutes a counter directed by Mehlich gave Lynam an excellent chance and he forced Pollard into a great save. Later, some smart play gave Gonzales room at the 18. He took the ball across the line to his right, beat two defenders, but then uncharacteristically sliced the shot. At 42 minutes Omaha finally took a somewhat dangerous attempt off a header, but it cleared wide of the UNLV goal and 3 minutes later the Rebels had their first win of the season.
Overall it was an vast improvement in control, possession, effective attacking and smart defense by UNLV. This squad surely seems capable of this type of play and if they can repeat this kind of effort a successful season is still a good possibility.