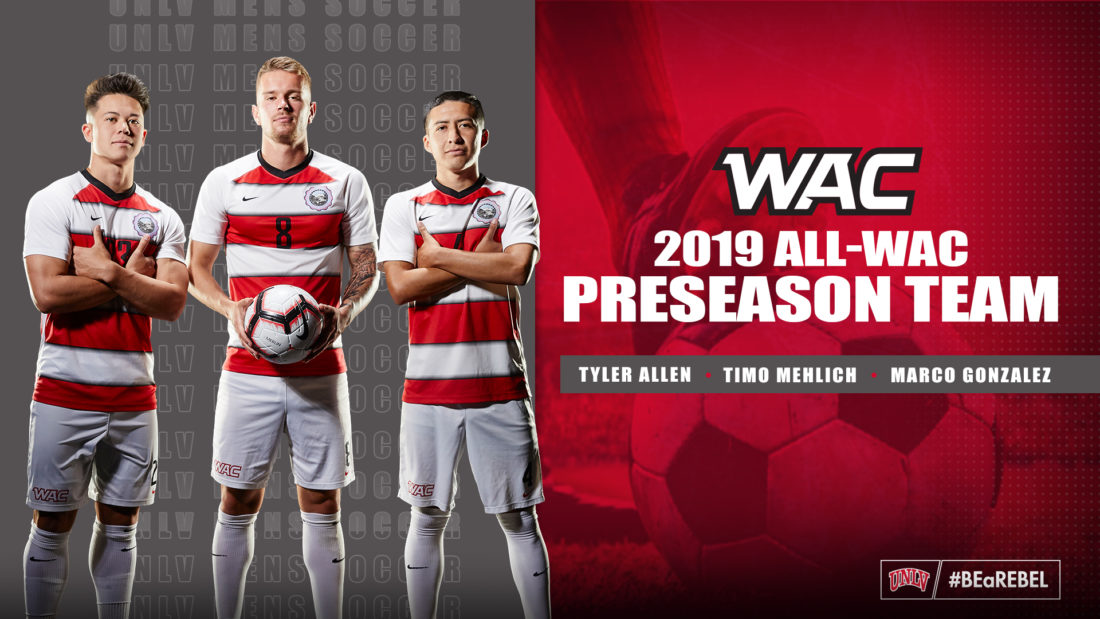 Three from UNLV Men's Soccer Names Preseason ALL-WAC
Rebels picked fifth in preseason poll, one vote out of a three-way tie for third
LAS VEGAS (UNLVRebels.com) – UNLV men's soccer placed a league-high tying three players on the 2019 Preseason Western Athletic Conference team, while the Rebels were picked fifth in the preseason preseason coaches poll, just one vote out of a three-way tie for third, the league office announced Wednesday. This marks the third time since 2015 that UNLV has three players on the preseason team.

Senior midfielder Timo Mehlich, (Mönchengladbach, Germany) picks up his third preseason All-WAC mention. Mehlich is a two-time All-WAC honoree who posted 10 points a year ago off three goals and four assists, despite playing through an injury-plagued season. Junior forward Marco Gonzalez (Las Vegas) makes his second straight appearance on the preseason all-conference team. He's coming off a stellar season in which he finished in the top five of the WAC in both goals (10) and points (23) , on the way to First-Team All-WAC and Third-Team All-West Region accolades. Making his first appearance on the preseason team is senior defender Tyler Allen (Honolulu, Hawaii), who has started 45 games over the past three seasons on the Rebels' backline.

UNLV return seven of 11 starters from last year's squad that posted a 10-10-1 mark. The Rebels received 87 points to place fifth overall, just one point behind Air Force and Grand Canyon, both with 88 points. Favored to win the 2019 WAC title is Seattle with 112 points, while UTRGV was selected second with 104 points. The top seven teams in the WAC will advance to the league's postseason tournament, hosted this year in Colorado Springs, Colorado by Air Force.

Tickets are on sale now for the 2019 UNLV men's soccer season. Season tickets are just $35 for adults, $25 for UNLV faculty/staff and seniors. Single game ticket prices this season are $8 for adults, $6 for faculty/staff and seniors, though a special internet price of $5 is available for all tickets bought online at UNLVTickets.com, good up to the night before game day. For the second straight year, all students in elementary, middle and high schools (with a school ID) will receive free admission to the sports of men's and women's soccer, volleyball, women's basketball, softball and baseball. Kids not yet of elementary school age will continue to receive free entry to all UNLV Olympic Sports.  
2019 WAC Preseason Men's Soccer Coaches' Poll
Place Team (1st place votes) Votes1. Seattle (5) – 112
2. UT Rio Grande Valley (2) – 104T3. Air Force (3) – 88T3. Grand Canyon (1) – 885. UNLV – 876. San Jose State (1) – 777. Utah Valley – 758. Cal Baptist – 499. CSU Bakersfield – 37T10. Houston Baptist – 27T10. Kansas City – 2712. UIW – 20

2019 Preseason All-WAC Team
William Akio, Sr., F, UT Rio Grande Valley
Kyle Edwards, Sr., F, UT Rio Grande Valley
Marco Gonzalez, Jr., F, UNLV
Declan McGlynn, So., F, Seattle U
Max Allen, Jr., MF, San José State
Julian Avila-Good, Sr., MF, Seattle U
Timo Mehlich, Sr., MF, UNLV
Tyler Allen, Sr., D, UNLV
Nick Blessing, Sr., D, Air Force
Thomas Mickoski, Sr., D, Seattle U
George Tasouris, So., GK, Grand Canyon

Preseason Offensive Player of the Year
Kyle Edwards, Rio Grande Valley
Preseason Defensive Player of the Year
George Tasouris, Grand Canyon