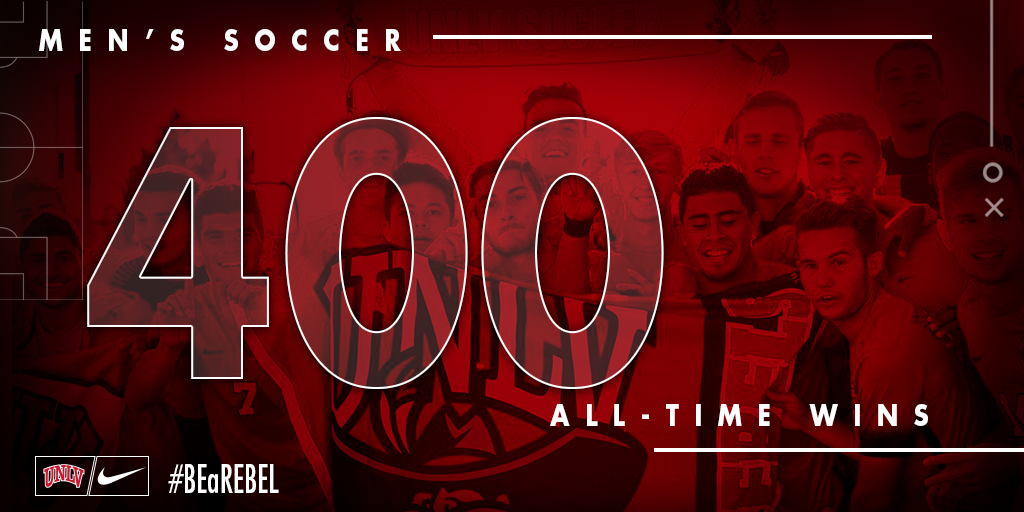 Rebels Claim 400th Win In Program History Friday Night
UNLV takes down Cal Baptist 1-0 for first WAC win of the season.
LAS VEGAS (UNLVRebels.com) – UNLV senior forward Daniel Moran posted the only goal of the game to give the Rebels a 1-0 shutout victory over Cal Baptist in WAC men's soccer action Friday night from Peter Johann Memorial Field. This was the 400th win in the 45-year history for the Rebels, who are now 400-383-64 all-time.
The Rebels improved to 6-5 for the year and evened their record to 1-1 in league play, while Cal Baptist dropped to 5-4-1, and 1-1 in the WAC. 
REBEL OF THE GAME: Moran, a Las Vegas native, notched his first game-winning goal of the year in the 41st minute. The winning play was set up by a Lancer foul, which awarded UNLV a free kick 30 yards away from the goal. Nico Clasen took the kick and from the right side launched the ball to the near post inside the box, where Moran connected on it with a header past the CBU goalkeeper for the score.
STAT OF THE GAME: Cal Baptist came into the night averaging over 14 shots and two goals per game, but were held scoreless while attempting only six total shots, with just one on goal.
REBEL NOTES: 
* Moran notched his third goal of the season and is tied for second on the team in points with seven.
* Clasen recorded his WAC-leading fifth assist of the season.
* UNLV snapped a three-game losing streak with the victory.
* Friday's win was the third shutout victory of the season for the Rebels.
NEXT FOR THE REBELS: UNLV closes out the weekend with a Sunday, Sept. 30 contest at 1 pm against CSU Bakersfield. Tickets are $8 for adults, $5 for seniors and staff, while all kids 17 and under are free at UNLV athletic events. Sunday's game will be streamed live on the WAC Digital Network, available on UNLVRebels.com as well as through the Roku, Apple TV, Fire TV and Android streaming devices.