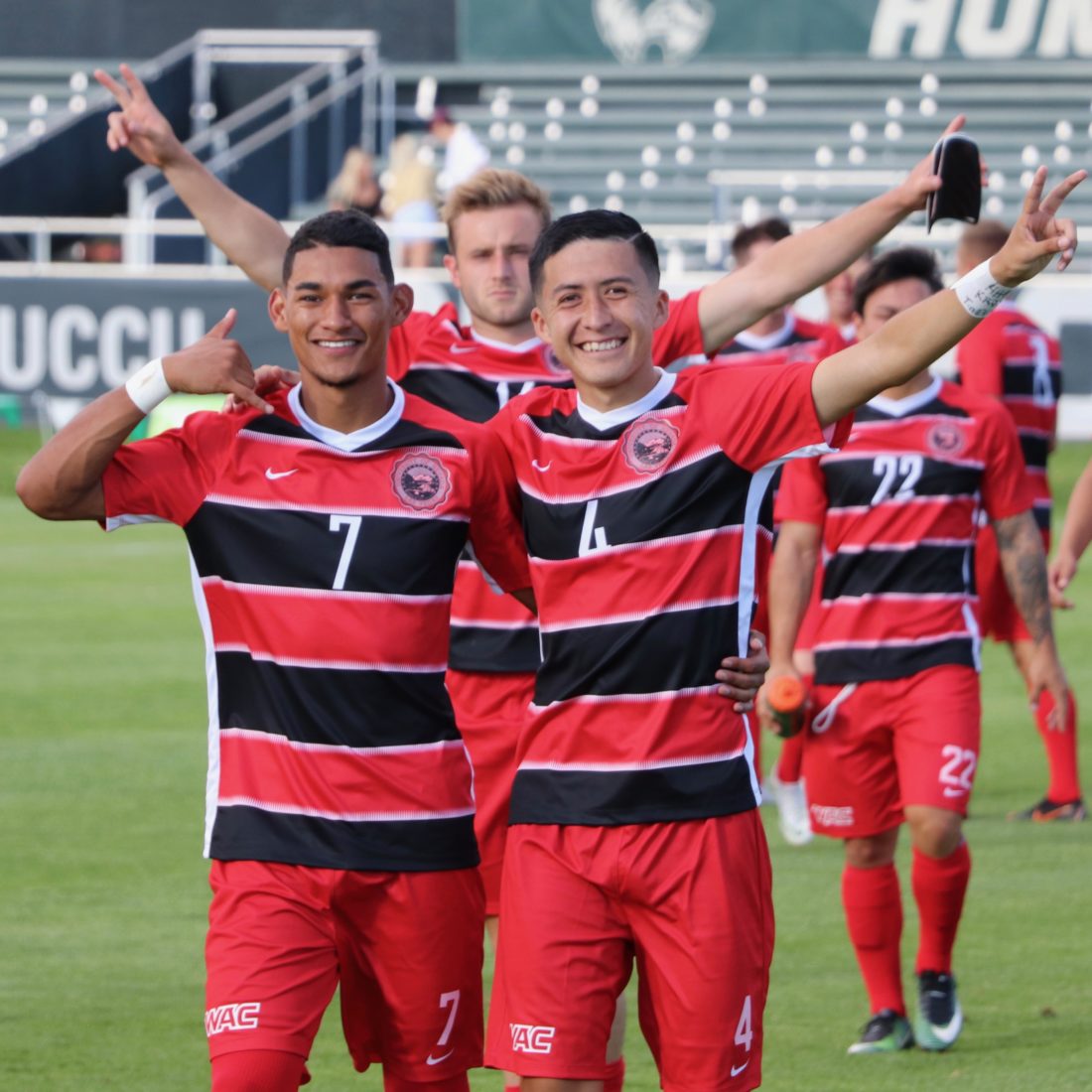 Season-Opening Shutout Win For The Rebels
UNLV takes down the FAU Owls 3-0
OREM, Utah (UNLVRebels.com) – UNLV men's soccer overcame a slow start in the first half with a three-goal explosion over a five-minute span after halftime for a 3-0 shutout victory over Florida Atlantic in the season opener for both teams Friday afternoon at Clyde Field on the Utah Valley campus.
UNLV did not have much going on offensively in the first half, as the Owls were the ones threatening to score over the first 20 minutes while taking four of the first five shots of the game. The Rebels stayed strong on defense however, and started to push the attack with several shots on goal to end the half. 
THE TURNING POINT: UNLV drew a penalty kick in the 50th minute after Timo Mehlich was pulled down in the box, the junior midfielder sent his attempt up the middle for the goal and a 1-0 lead. Four minutes later the lead doubled on Bay Kurtz's score on the empty net after the Owl goalkeeper came out to challenge the play in the 54th minute. UNLV added a third goal just 65 seconds later in the 55th minute for a commanding 3-0 lead.
REBEL OF THE GAME: Senior forward Daniel Moran assisted on the game's second goal, and finished off an assist from Marco Gonzalez when he tapped in the shot in front of the goal to give him three points for the afternoon.
STAT OF THE GAME: Only one of FAU's 11 credited shots in the game were on goal, while nine of UNLV's 12 shots were on frame.
QUOTABLE:
"I thought we started a little apprehensive, the guys were tentative with their first game and that kept us from playing with a good rhythm  and possession. We regrouped well at halftime, we were able to make a lot of changes and keep guys fresh and that led to a great five-minute spell there to get the three goals. Good start to the season."
– UNLV Head Coach Rich Ryerson
REBEL NOTES: 
* UNLV goalkeeper Enrique Adame only needed one save to pick up the seventh shutout in his career.
* Bay Kurtz scored his first career goal as a Rebel after transferring to UNLV this summer from Virginia
* Daniel Moran has scored goals in the past two season-openers for UNLV after his golden goal a year ago in a 3-2 double-overtime win at Portland.
* This is the second straight year UNLV has won its season-opener, and both were away from Las Vegas.
NEXT FOR THE REBELS: UNLV remains in Orem for its second game of the weekend, a Sunday morning, 9:30 am contest against Evansville. The game will have a live video feed on the WAC Digital Network, available both on UNLVRebels.com and on the WAC's Roku, Amazon Fire, Apple TV and Droid TV channels.