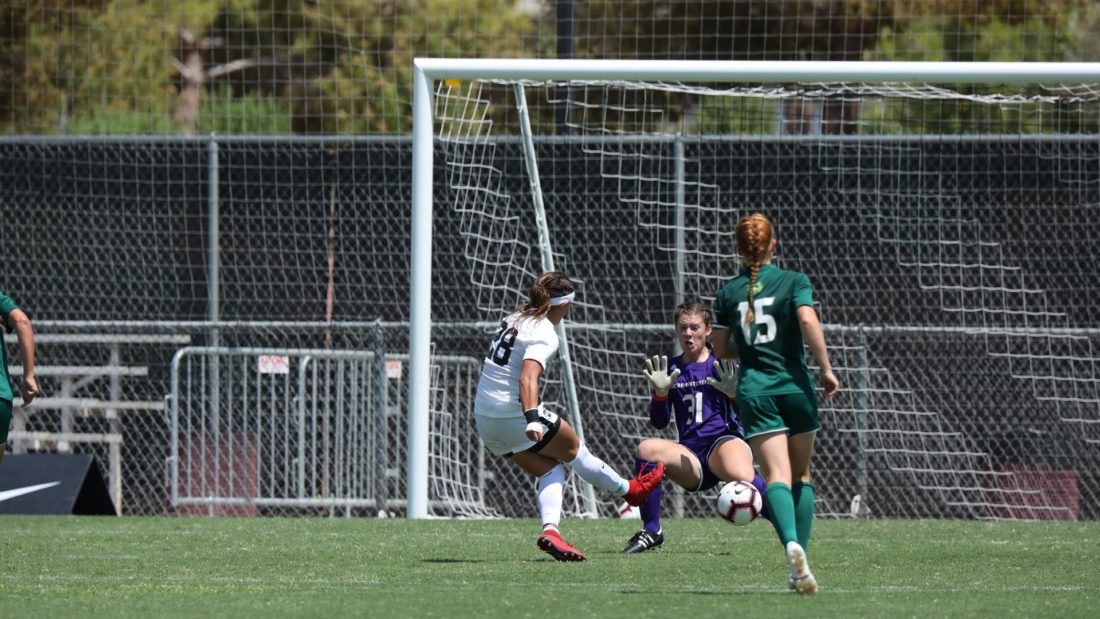 Rebels Go Unbeaten On Opening Weekend
UNLV scores late goal to down Sacramento State 2-1 Sunday at home
LAS VEGAS (UNLVRebels.com) – On a hotter than normal late-August afternoon, UNLV women's soccer completed a perfect 2-0 opening weekend at Peter Johann Memorial Field, beating Sacramento State 2-1 in the finale of the UNLV Invitational Sunday. The victory didn't come easy, however, as the Hornets never quit and tied it at one late in the game before UNLV ultimately pulled it out.
For the second straight year, the Rebels began the season with an unbeaten mark at their home-hosted tournament and will look to go 4-0 to start the season for the third consecutive year as they head out on the road next weekend, taking on Southern Utah Thursday at 3 p.m. PT and Utah Valley Saturday at 6 p.m.
THE TURNING POINT: UNLV took an early lead in the 13th minute thanks to a towering Emberly Sevilla kick finding forward Amanda Galbraith, who took a couple touches and finished in the back of the net for her first goal of the season. It was looking like that would hold up for the victory, but the Hornets never gave up despite the heat and relentless UNLV pressure, tying the game at one with just under 20 minutes to play. The Rebels didn't let that phase them, as they responded just over a minute later with the game-winning goal. Sophomore midfielder Hannah Harrison dished it to forward Caitlyn Kreutz, who took a turn and slotted it into the back left corner.
REBEL OF THE GAME: Kreutz's speed put pressure on the Hornet defense all afternoon and her attack finally paid off with the game-winner. It was the senior's second game-winner of the weekend as her second-half score Friday night gave the Rebels the lead for good in the eventual 5-1 victory over UIC.
STAT OF THE GAME: The Rebels registered more than 20 shots for the second straight game, out-shooting the Hornets 22-7. That included three rocket shots nailing the crossbar – just a few inches here or there and the margin of victory could have been bigger.
QUOTABLE: Head coach Chris Shaw 
On the team's performance Sunday:
"I'm happy with the result, Sacramento State is a tough team, they compete for everything. They made things really tough for Santa Barbara on Friday and they just never give up. That said, I thought we played well. We did a much better job of controlling possession and even though we didn't score as many, I felt like we created just as many opportunities as we did on Friday. Overall, a better performance, I think getting the first game out of the way allowed us to settle down, so I was very pleased with the performance today."
Overall thoughts about opening weekend and heading out onto the road for the first time:
"We always take a lot of pride in trying to win at home and it's always nice playing in front of the hometown crowd. Going on the road, we will see what the team's made of because we've got to play half our games on the road so you can't just win at home and expect to be competitive. We're excited about going on the road and hopefully we can replicate some of what we saw today."
REBEL NOTES: 
* UNLV is celebrating its 20th season in program history, with the official recognition taking place on Friday, Oct. 5 as the Rebels host Fresno State
* UNLV started 2-0 for the third consecutive year
* UNLV is now 2-0 at home after going 9-1 on their home field in 2017
* Four different player have recorded goals all ready, with Kaila Brinkman, Robin Pollard and Caitlyn Kreutz each netting two on opening weekend.
* UC Santa Barbara was named the official winners of the UNLV Invitational after going 2-0 and scoring nine goals on the weekend, edging out the Rebels who went 2-0 with seven goals
* Tournament honors:
Overall tournament MVP: Jessica Clegg, UCSB
Offensive MVP: Caitlyn Kreutz, UNLV
Defensive MVP: Sophia Dertorossian, UCSB
GK of the Tourney: Emberly Sevilla, UNLV
All Tournament Team:
– Sac. State: Mikayla Reed, Mia Wilson
– UCSB: Jessica Clegg, Sophia Dertorossian, Mal Hromatko, Shea Murison
– UIC – Megan Bowman
– UNLV: Caitlyn Kreutz, Emberly Sevilla, Troi Hollimon, Kaila Brinkman