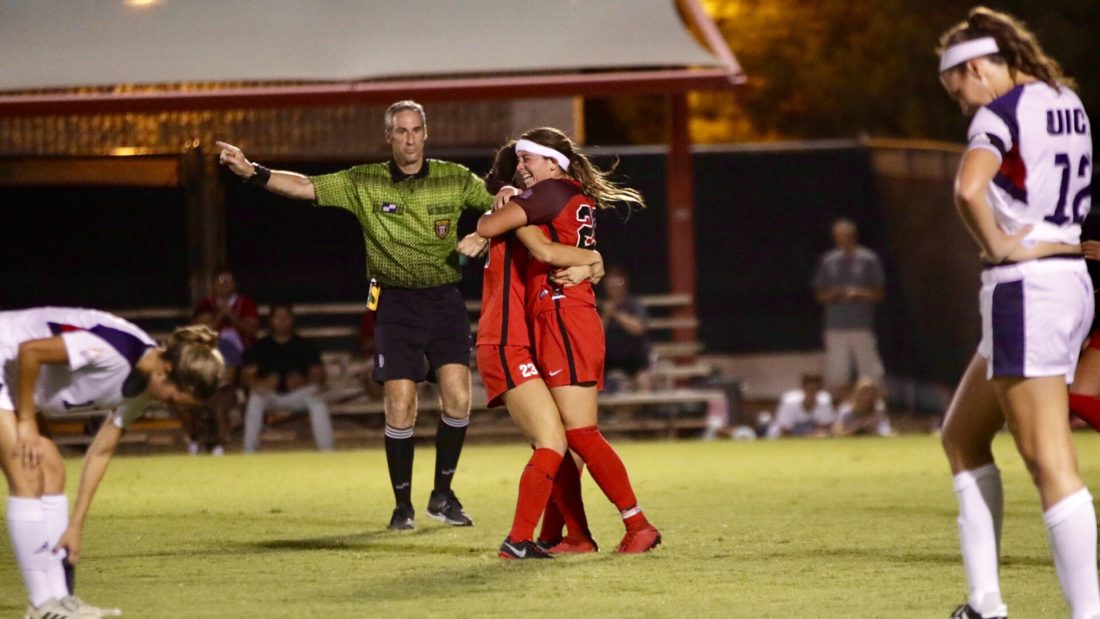 Offense Gets Back On Track In 3-1 Win At CSUN
UNLV scores three first-half goals to defeat Cal State Northridge Thursday night
NORTHRIDGE, California (UNLVRebels.com) – UNLV women's soccer concluded its three-game road stretch with a dominant 3-1 win over CSUN in Northridge, California, Thursday night. The Rebels used three first-half goals to grab the lead, then held off the Matadors in the second half to get back in the win column after a loss and a draw last weekend in Utah. UNLV moves to 3-1-1 on the season, while CSUN falls to 1-2-1.
The Scarlet and Gray will return home to finish out the weekend, hosting Cal State Bakersfield at Peter Johann Memorial Field on Sunday, September 2 at 1 p.m.
THE TURNING POINT: UNLV took an early 1-0 lead, but the Matadors quickly tied it up in the 14th minute. The Rebels didn't waste any time responding, with junior midfielder Katie Ballou heading in a corner kick from senior forward Amanda Galbraithin the 18th minute to take the lead right back. Ten minutes later, junior transfer Kim Olivares scored her first career goal as a Rebel on a nifty shot off a pass from junior defender Paige Almendariz, giving the Rebels the two-score lead.
REBEL OF THE GAME: Galbraith showed why she's so important to the offense as she opened things up just after the five minute mark, finding the back of the net after fellow forward Michaela Morris fed her on the left side of the box. Twelve minutes later, Galbraith sent the textbook corner into the waiting head of Ballou for what proved to be the game-winner.
STAT OF THE GAME: After being limited to one goal in over 200 minutes of action last weekend, the Rebels scored three goals in a span of 24 minutes in the first half.
QUOTABLE: Head coach Chris Shaw:
"I'm very happy with our performance overall tonight. Three goals on the road against a tough and physical Northridge team isn't easy. I thought the defense battled hard and I was impressed with them tonight."
REBEL NOTES: 
* UNLV and CSUN finished at an even 13-13 for shots on the night – the Rebels have not been out-shot in five games this year
* The road victory is the first for UNLV since September 24, 2017 – a 1-0 win at San Diego State. Prior to Saturday's double overtime 1-1 draw at Utah Valley, the Rebels had lost five straight on the road dating back to last season
* UNLV returns home Sunday, where they are 2-0 this year and were 9-1 last season
* Thursday's match marked the first time since 2010 the two schools had played each other. CSUN won the last matchup 1-0 in Las Vegas on Sept. 12, 2010
* The draw breaks a five-game regular season road losing streak that dates back to the end of last season
* UNLV is celebrating its 20th season in program history, with the official recognition taking place on Friday, Oct. 5 as the Rebels host Fresno State