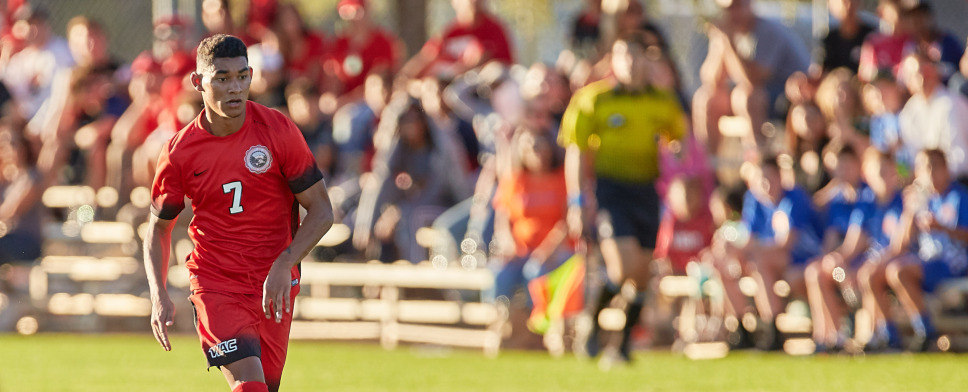 Rebels To Face Road-Heavy Schedule In 2018
UNLV will play eight of its first 10 games away from Las Vegas.
May 24, 2018
LAS VEGAS (UNLVRebels.com) – 2018 UNLV Men's Soccer Schedule
UNLV men's soccer will be challenged from day one this upcoming season, as the Rebels play eight of their first 10 games of the year away from Las Vegas. Three games on the schedule will also be against teams that reached the NCAA Tournament in 2017, as the Rebels' 20-game 2018 slate was released by the athletics department Thursday.
"This year we decided to challenge our guys right from the start," said Ryerson. "Our strategy with our road-heavy schedule is to get them ready for the tough settings they will face in conference play, especially at Seattle both for the regular season and in the conference tournament. While we bring back several starters, we are still a young team, and this will be a great way to get them experience playing in a tough environment."
The Rebels will begin play with a pair of neutral-site games at the home of WAC member Utah Valley in Orem, Utah, against Florida Atlantic (Aug. 24) and Evansville (Aug. 26). The season opener will be just the second meeting between the two schools, following a Rebel road victory at FAU in 2007. It will mark the sixth meeting all-time against Evansville, with the last coming in the 2002 season.
The next weekend will see UNLV off to Oklahoma to face Tulsa for the first time since 2001. The weekend closes out with a game at Oral Roberts, which will be the second time the teams have played and first since a UNLV victory in Las Vegas in 2009. UNLV then comes back to Las Vegas for its only non-conference home games of the season in the Johann Memorial Classic Sept. 7 and 9. It will also be Alumni Weekend for the Rebels, with the Alumni game starting things off on the afternoon of Sept. 7, followed by the home opener against Wofford. On Sept. 9, Wofford will play Cal Baptist, while the Rebels will play a Sunday night contest against CSU Fullerton, a NCAA tournament participant from a year ago. The Rebels have played more games (36) against the Titans then any other non-conference school in team history, while it will be the first meeting ever against the Wofford Terriers.
UNLV will then play three of its next four games in the state of California, starting with contests at UC Riverside (Sept. 14) and San Diego (Sept. 16). This will be the eighth meeting in nine years with UCR, while the Rebels last met USD in 2016. The WAC opener will take place in Edinburg, Texas, against UTRGV on Sept. 22, which is followed by another non-conference road contest, a Monday, Sept. 24 game at San Diego State.
The Rebels will climb back into league play with home games against new WAC member Cal Baptist (Sept. 28) and CSU Bakersfield (Sept. 30). Highlights of the WAC schedule include a road contest at 2017 tournament champion Seattle (Oct. 5), while the Rebels will host regular-season champion (and 2017 NCAA team) Air Force on Oct. 26. Senior night for the Rebels will come on Friday, Nov. 2 against Grand Canyon, while this year's tournament is hosted by Seattle on Nov. 7-11.
Highlighting the returnees for UNLV for 2018 are three players who received All-WAC honors a year ago – junior midfielder Timo Mehlich, senior defender Adam Musovski and sophomore midfielder Marco Gonzalez, while Gonzalez and midfielder Jesus Partida were both all-freshman team selections. In all, seven starters come back from a squad that finished the year at 11-9-1 and placed second in the WAC regular-season standings.