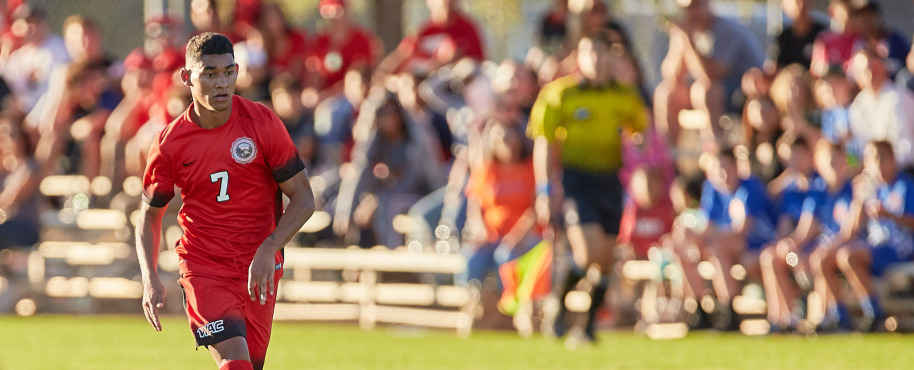 Spring Schedule Set For Rebels
UNLV will open on Thursday night at Peter Johann Memorial Field.
Feb. 14, 2018
LAS VEGAS (UNLVRebels.com) – The UNLV men's soccer team begins its 2018 spring schedule this Thursday with a 7 pm contest against Almere City FC U19 (Holland) at Peter Johann Memorial Field. All home games for the men's soccer team in the spring season will have free admission.
The Rebels will then have a pair of home games in the month of March. First will be a match with Dixie State on Saturday, March 10 at 8 pm, while UNLV will also host Redlands on Saturday, March 24 with a 5 pm start.
The month of April has the Rebels facing two double-headers. The first will again be at Peter Johann Memorial Field, as UNLV will play Cal State San Bernardino and Ottowa University (AZ) on Saturday, April 7, with the start times still TBD. They will close out the spring slate on Saturday, April 14 with two games in Northridge, California. First the Rebels will play the host school CSU Northridge at 1 pm, and will follow that with a neutral contest against Loyola Marymount at 3 pm.
UNLV Men's Soccer 2018 Spring Schedule
| | | | |
| --- | --- | --- | --- |
| Date | Time     | Opponent | Location |
| Thursday, Feb. 17 | 7 pm | Almere City FC U19 (Holland) | UNLV |
| Saturday, March 10 | 8 pm | Dixie State | UNLV |
| Saturday, March 24 | 5 pm | Redlands | UNLV |
| Saturday, April 7 | 12 pm | Cal State San Bernardino | UNLV |
|  Saturday, April 7 | 7 pm | Ottowa University (AZ) | UNLV |
| Saturday, April 14 | 1 pm | at CSU Northridge | Northridge, Calif. |
|  Saturday, April 14 | 3 pm | vs Loyola Marymount | Northridge, Calif. |