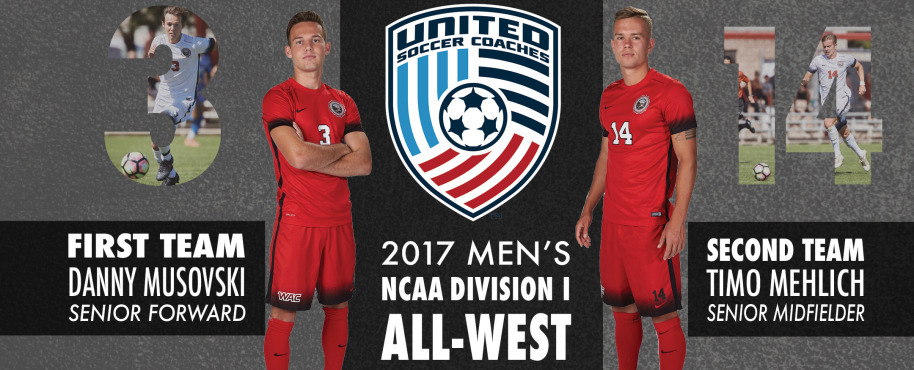 Musovski Second Rebel To Earn All-Region Three Times
Mehlich also named all-region.
Dec. 4, 2017
LAS VEGAS (UNLVRebels.com) – Senior forward Danny Musovski became the second UNLV player to receive all-region three times in their career, as he was named to the United Soccer Coaches All-West Region First Team, the national organization has announced. Also honored was sophomore midfielder Timo Mehlichwith a second team selection, which is the first of his career.
Musovski was also named all-region in 2015 (first team) and in 2016 (second team). He joins Robbie Ryerson (1983-85) as the only Rebels to receive regional honors three times in their career. This also marks the second time in three years the Rebels placed multiple players on the all-region squads.
Musovski, a native of Henderson (Liberty HS), finished his career at UNLV as one of the top players ever to wear the Scarlet and Gray. He claimed WAC Offensive Player of the Year honors for the second time in his career after leading the nation in both goals (0.88 per game) and points (2.12 per game). His total goals (15) and points (36) ranked him fourth and fifth in the nation, respectively, despite missing five games during the season. Musovski closed out his UNLV career ranked third in total goals with 47, and third as well in total points with 117, and both marks were new WAC career records as well.
He set a WAC record for points in a game with nine after posting four goals and one assist against Oral Roberts (Sept. 24). Both his four goals, and his nine points, tied for the most in the nation in a game this season. His seven points off three goals and an assist in the win at San Jose State (Oct. 6) set a WAC record for total points in a conference game.
Mehlich, a native of Mönchengladbach, Germany, was second on the team in scoring this season with 16 points. He posted three game-winners on the season, including in the past two games, a 2-1 double-overtime win over No. 22 Seattle and Saturday's 4-1 win at Grand Canyon, and was one of three Rebels to earn first team All-WAC honors for the season.