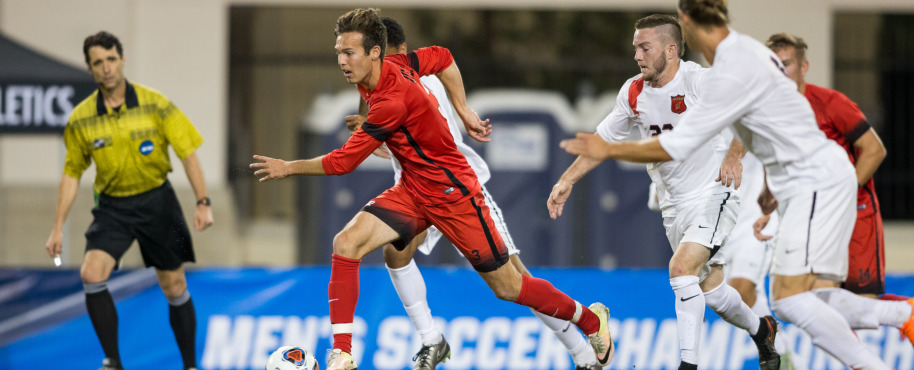 Musovski Earns All-America Status, MLS Combine Invite
Senior led the nation in scoring this season.
Dec. 22, 2017
LAS VEGAS (UNLVRebels.com) – Senior forward Danny Musovski continues to receive recognition for his outstanding play this past season for the UNLV men's soccer team as he was named Third Team All-America by College Soccer News. In addition, it was announced Thursday that the Henderson native is one of 60 Division I players who received an invitation to the 2018 MLS Combine.
Musovski will get the chance to show off his talents in front of representatives from all 23 MLS clubs at the 2018 Comibe, which is being held in Orlando, Florida, from Jan. 11-17, 2018. All invited players are eligible for selection in the 2018 SuperDraft January 19 in Philadelphia. A committee of MLS coaches and NCAA Division I coaches from every conference selected the invitees, all of whom completed their college eligibility this season.
With his selection by College Soccer News Musovski is just the second Rebel to become a two-time All-American, joining Robbie Ryerson (1984, '85). During his sophomore campaign, Musovski was named NSCAA Second Team All-America while also earning third team honors from Top Drawer Soccer and College Soccer News.
Musovski, a graduate of Liberty High School, finished his career at UNLV as one of the top players to ever wear the Scarlet and Gray. He claimed WAC Offensive Player of the Year honors for the second time in his career after leading the nation in both goals (0.88 per game) and points (2.12 per game). His total goals (15) and points (36) ranked him fourth and fifth in the nation, respectively, despite missing five games. Musovski closed out his UNLV career ranked third in total goals with 47, and third in total points with 117. Both marks were WAC career records.
He set a WAC record for points in a game with nine after posting four goals and one assist against Oral Roberts (Sept. 24). Both his four goals, and his nine points, tied for the most in the nation in a game this season. His seven points off three goals and an assist in the win at San Jose State (Oct. 6) set a WAC record for total points in a conference game. Other honors for Musovski this season included United Soccer Coaches First Team All-West Region and first team All-WAC.