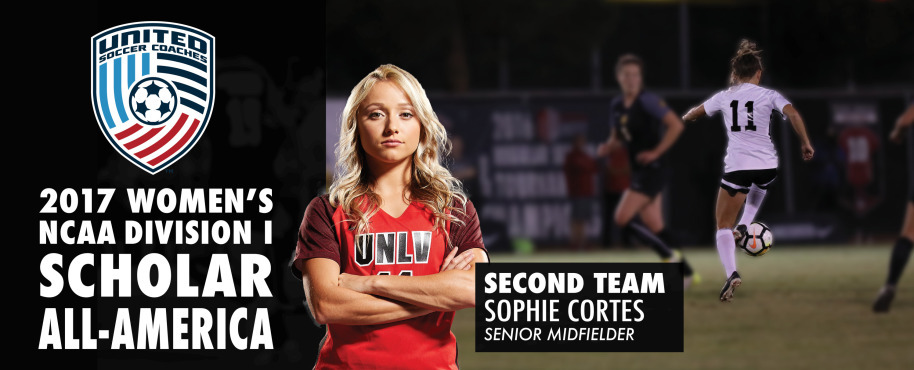 Cortes Named To Scholar All-America Team
Senior Sophie Cortes tabbed a United Soccer Coaches Scholar All-America Second Team selection.
LAS VEGAS (UNLVRebels.com) – UNLV women's soccer senior Sophie Cortes was named to the United Soccer Coaches Scholar All-America Second Team, the organization announced Thursday.
Cortes wrapped up her Rebel career in October as part of the winningest senior class in program history, with UNLV collecting 49 wins over her four years to go along with Mountain West regular season and tournament titles and the program's first NCAA Tournament appearance in 10 years. The midfielder is majoring in Hospitality Management and carries a 3.4 grade-point-average. Cortes is the only representative from the Mountain West Conference.
"I'm very proud of Sophie's achievements this season," said head coach Chris Shaw. "She exemplifies the definition of a student-athlete. She has been a success on the field and in the classroom, which is what every coach wants to see in their players. She had a great season and this award is the icing on the cake for her."
The honor comes a year after UNLV saw former Rebel Lily Sender earn the program's first Scholar All-America selection from the organization. Sender was also a second team honoree.
Earlier in the week, Cortes was named to the United Soccer Coaches Scholar West All-Region team as a first team selection, marking the second straight year a Rebel has appeared on the all-region teams.
Cortes, from Newhall, California, developed into one of the top players in the Mountain West during her four years at UNLV. The two-time MW All-Conference First Team selection had a breakout season in 2017, racking up 32 points on 12 goals and eight assists. The 32 points rank second all-time in a single-season, while her goals and assists were both tied for third-best. For her career, her 16 goals are tied for seventh all-time, her 49 points rank eighth all-time and her 17 assists are fifth-most in program history.
The Rebels finished the 2017 campaign 13-7 overall and 5-6 in conference play.
The full United Soccer Coaches Scholar All-America teams can be found here.