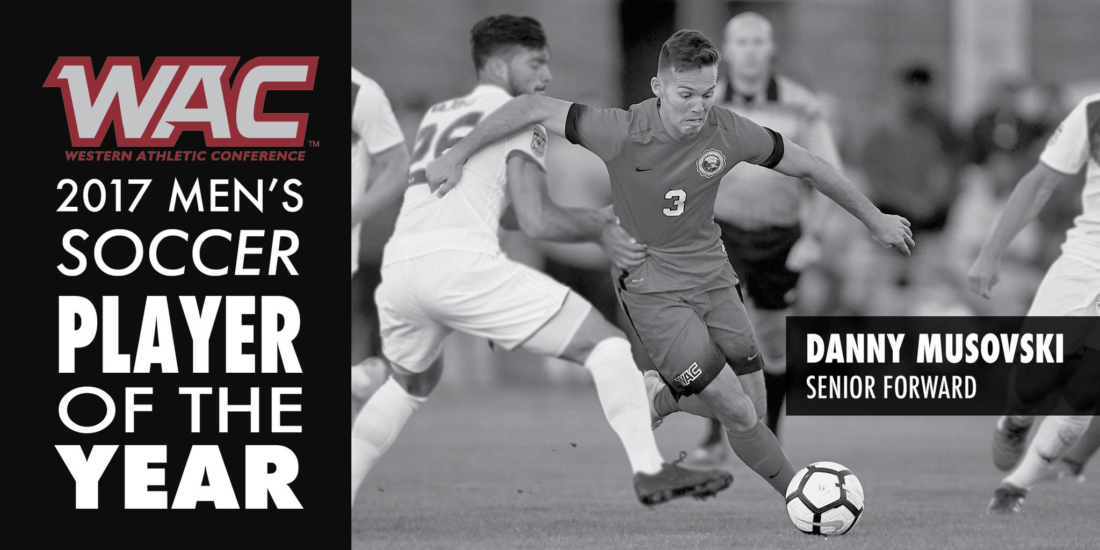 Musovski Named WAC Offensive Player Of The Year
Senior forward is just one of three players to twice be named WAC Player of the Year.
Nov. 7, 2017
LAS VEGAS (UNLVRebels.com) – UNLV's Danny Musovski became the third men's soccer player in Western Athletic Conference history to earn two Player of the Year honors, as he was named the 2017 WAC Offensive Player of the Year Tuesday night at the WAC Men's Soccer tournament banquet on the UNLV campus. Musovski, who also earned the award after the 2015 season, joins SMU's Daniel Hernandez (1996 and 1997) and Seattle U's Kyle Bjornethun (Defensive Player of the Year, 2015 and 2016), as the only players to twice earn the top season honor in the WAC.
Musovski was also named first-team All-WAC for the third straight season. Joining him on the first team was sophomore midfielder Timo Mehlich, who was a second-team selection a year ago, while junior defender Adam Musovski was also a first-team selection. Junior midfielder Keven Partida was named to the second team, while freshman Marco Gonzalez was honorable mention. Gonzalez also made an appearance on the All-Freshman team, and was joined by midfielder Jesus Partida.
Danny Musovski, a senior forward and native of Las Vegas, is currently tied for first in the nation in scoring (points per game). He paces the conference in total goals (14) and points (34) as well as goals (nine) and points (22) in league play. He set a WAC record for points in a game with nine after posting four goals and one assist against Oral Roberts (Sept. 24), which is also tied for the highest point total in the nation this year. His seven points off three goals and an assist in the win at San Jose State (Oct. 6) set a WAC record for total points in a conference game. He holds the WAC career records for total points (115) and goals (46) coming into this week's league tournament.
His younger brother, Adam, earns his first career all-conference selection. A two-year starter on the backline, he is the anchor of the Rebel defense. Mehlich, a native of Mönchengladbach, Germany, was second on the team in scoring this season with 16 points, which tied him for eighth in the league. He posted three game-winners on the season, including in the past two games, a 2-1 double-overtime win over No. 22 Seattle and Saturday's 4-1 win at Grand Canyon.
Kevin Partida made a successful return to the field after missing the 2016 season with a knee injury. The Reno native was the Rebels' leader in the midfield, while his younger brother, Jesus, earned freshman team honors after appearing in 18 games and posting three points for the year. Gonzalez, a native of Las Vegas, was the top scoring first-year player in the WAC as he tied Mehlich with 16 points off five goals and six assists.
NEXT FOR THE REBELS: UNLV is hosting the 2017 WAC Tournament on Wednesday through Sunday at Peter Johann Memorial Field. The second-seeded Rebels will play seventh-seed GCU at 7 pm in first round action on Wednesday. The day's first game will see fourth-seed San Jose State take on fifth-seed UTRGV at 1 pm, while third-seed Seattle and sixth-seed CSU Bakersfield face off at 4 pm. Semifinal matchups are set for Friday at 4 pm and 7 pm, while the championship game will be played Sunday.
Single game ticket prices for the tournament are $8 for adults, $5 for youth ages 13-18, while kids 12 and under are free. All session passes are available at $20 for adults, and $12 for youth ages 13-18. More information is available at UNLVTickets.com.
2017 WAC MEN'S SOCCER SEASON HONORS
Offensive Player of the Year: Danny Musovski, Sr., F, UNLV
Defensive Player of the Year: Nathan Aune, Jr., D, Seattle U
Freshman of the Year: Josh Drack, F, Grand Canyon
Coach of the Year: Doug Hill, Air Force
2017 First Team All-WAC
Niki Jackson, Sr., F, Grand Canyon
Eric McWoods, Sr., F, Kansas City
Danny Musovski, Sr., F, UNLV
Tucker Bone, Jr., MF, Air Force
Timo Mehlich, So., MF, UNLV
Alex Roldan, Sr., MF, Seattle U
Nathan Aune, Jr., D, Seattle U
Jamie Carey-Morrell, Sr., D, CSU Bakersfield
Oscar Chacon, Sr., D, Air Force
Adam Musovski, Jr., D, UNLV
John Wendt, Sr, GK, Air Force
2017 Second Team All-WAC
Klint Parker, Jr., F, Air Force
Karson Payton, Sr., F, Utah Valley
Medo Youssef, Sr., F, Seattle U
Kevin Partida, Sr., MF, UNLV
Trey Pujats, Sr., MF, Air Force
Sergio Rivas, Jr., MF, Seattle U
Paul Hoffmeister, Sr., MF, Utah Valley
Anthony Ayala, Jr., D, Seattle U
James Sims, Jr., D, Air Force
Andy Rios, Jr., D, San José State
Detre Bell, Fr., GK, CSU Bakersfield
Honorable Mention All-WAC
Air Force: Danny Han, Luis Martinez, James Sims
CSU Bakersfield: Jeremie Charron, Sebastian Mentel
Grand Canyon: Josh Drack, Aidan McGlothan, Jeremy Pollard, Amer Sasivarevic, Khadim Seye
Houston Baptist: Decon Grant
UIW: Marjan Gamsjager
Kansas City: Filippo Errico
UNLV: Marco Gonzalez
San José State: Jeffery Dukes, Jeremy Romero
Seattle U: Josh Adachi, Ozzie Ramos
UT Rio Grande Valley: Michael Faber, Ilias Kosmidis, Angel Lopez, Dimitris Strantzalis
Utah Valley: Alec Felix
All-Freshmen Team
Max Allen, MF, San José State
Habib Berry, F, Seattle U
Detre Bell, GK, CSU Bakersfield
Josh Drack, F, Grand Canyon
Marco Gonzalez, MF, UNLV
Omar Lemus, D, San José State
Musa Morris-Demos, MF, Grand Canyon
Jesus Partida, MF, UNLV
Jeremy Pollard, GK, Grand Canyon
Ivory Randle IV, D, Seattle U
Ricardo Soza, MF, CSU Bakersfield