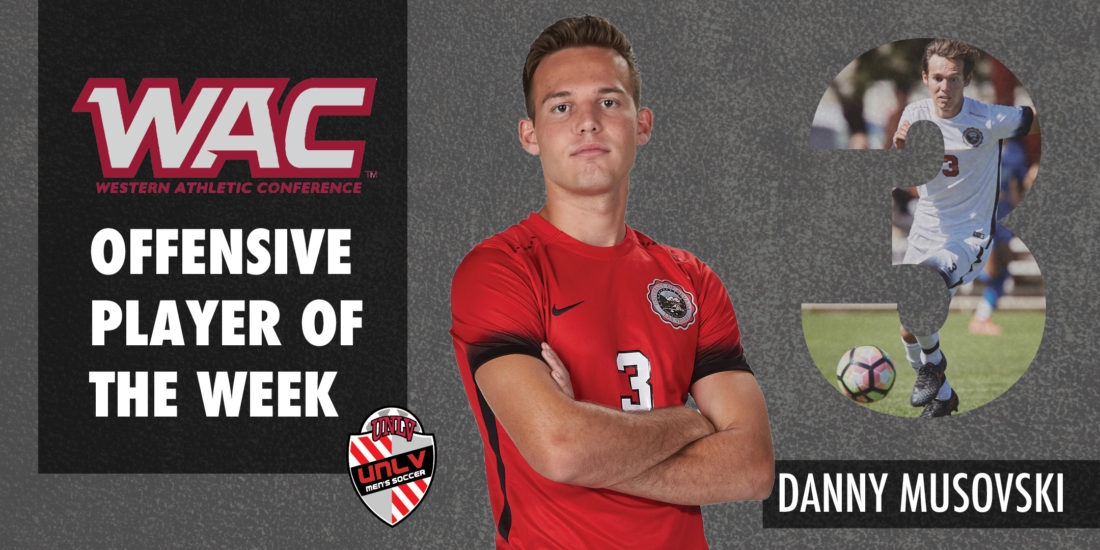 Musovski Earns WAC Record 6th Player Of The Week Honor
Senior forward is tied for first in the nation for points per game.
Nov. 6, 2017
LAS VEGAS (UNLVRebels.com) – UNLV's Danny Musovski has been named the WAC Men's Soccer Offensive Player of the Week for a conference record sixth time, the league office announced on Monday morning. He already set the UNLV record for total conference player of the week honors earlier this season with his fifth.
The senior forward notched his 13th and 14th goals of the season in the Rebels' 4-1 victory at Grand Canyon on Saturday night. It was the first conference home loss of the season for the Antelopes, while the Rebels clinched the second-seed in this week's WAC Tournament with the victory.
He scored the game's first goal in the 23rd minute put the Rebels ahead by a goal, and then he added an insurance goal in the 76th minute to give UNLV a 3-1 edge.
Musovski, a Las Vegas native, currently is tied for first in the nation in scoring with 2.27 points per game. He is tied for fourth in total points in the nation with 34, and tied for sixth in total goals.
NEXT FOR THE REBELS: UNLV is hosting the 2017 WAC Tournament on Tuesday, Nov. 8 through Sunday, Nov. 12 at Peter Johann Memorial Field. The second-seeded Rebels will play seventh-seed GCU at 7 pm in first round action on Wednesday, Nov. 8. The day's first game will see fourth-seed San Jose State take on fifth-seed UTRGV at 1 pm, while third-seed Seattle and sixth-seed CSU Bakersfield face off at 4 pm. Semifinal matchups are set for Friday at 4 pm and 7 pm, while the championship game will be played on Sunday.
Single game ticket prices for the tournament are $8 for adults, $5 for youth ages 13-18, while kids 12 and under are free. All session passes are available at $20 for adults, and $12 for youth ages 13-18. More information is available at UNLVTickets.com.