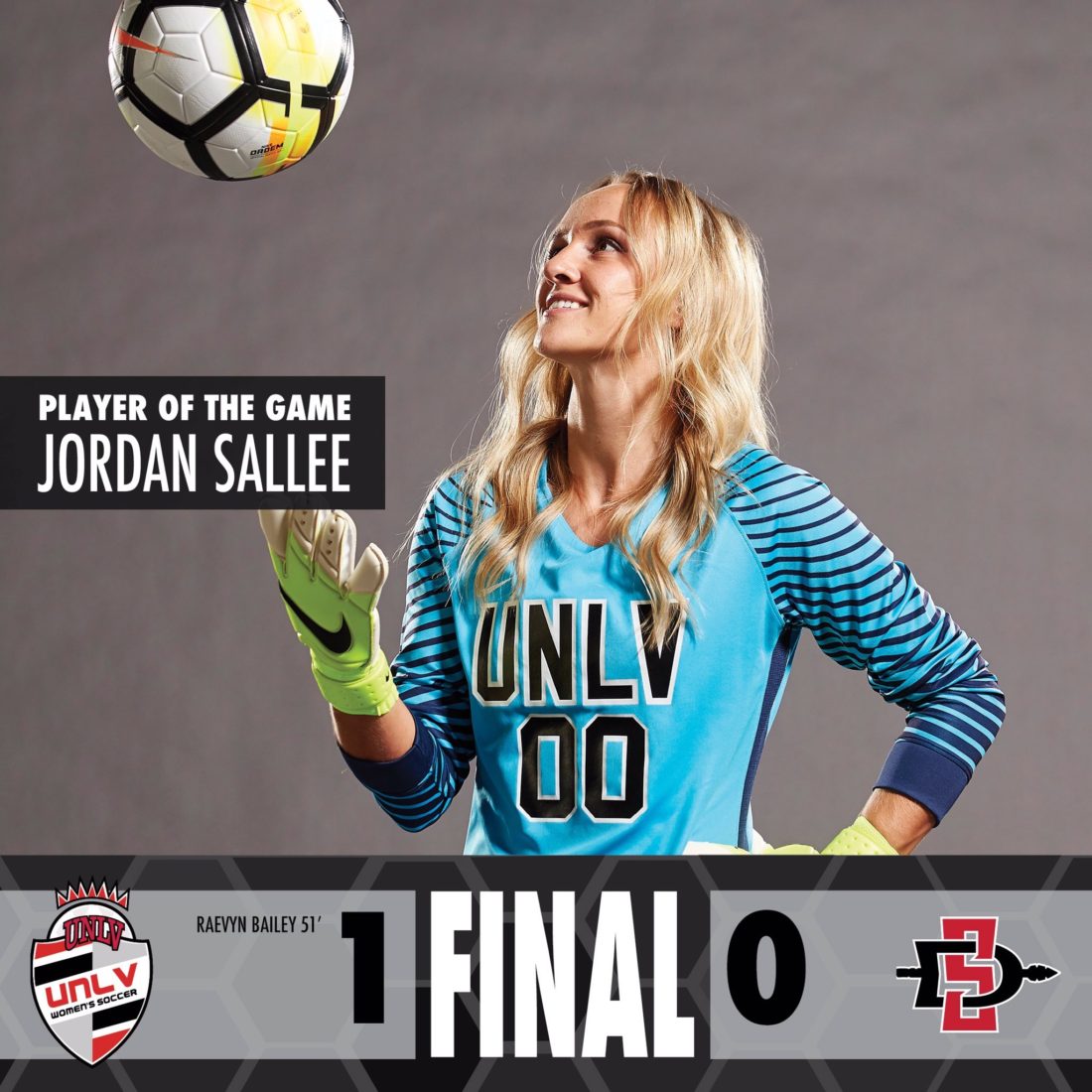 Rebels Nab First Win Against Aztecs Since 2008
UNLV picks up first Mountain West victory of 2017 and first win outright win over San Diego State since 2008.
Sept. 24, 2017
SAN DIEGO, Calif. (UNLVRebels.com) – 
UNLV women's soccer bounced back from just its second loss of the season Friday at New Mexico in a big way, downing San Diego State 1-0 at the SDSU Sports Deck Sunday afternoon. The victory marked the Rebels' first over the Aztecs since 2008 and their first Mountain West victory of the season as they improve to 9-2 overall and 1-1 in league play.
While one steak ended in San Diego, another one continued. UNLV has not lost two games in a row in almost two years – a span of 44 games dating back to the end of September in 2015.
THE TURNING POINT: The first half was another defensive battle between the Rebels and Aztecs as it has been as of late. The Rebels came out firing in the second half, putting pressure on the Aztec defense. In the 52nd minute, that pressure paid off as the ball ended up inside the box and eventually in the goal as the SDSU defense tried to clear it, but bounced it off its own defender into the net.
REBEL OF THE GAME: Keeper Jordan Sallee returned to the starting lineup after sitting out Friday's match with an injury. The senior returned to make six saves en route to registering her second shutout of the season. It was her ninth win of the season.
QUOTABLES:
"I'm very pleased with the the result today. I thought the team played well especially considering that we had a really tough match on Friday. This team has a tremendous amount of talent and a never say die attitude and I think they demonstrated both of those attributes today. San Diego State is a talented team, but it's always a great matchup because we know they will try to play soccer and it's enjoyable to coach against and watch." – Head Coach 
Chris Shaw
REBEL NOTES: 
* UNLV ended a streak of eight years without an outright win over San Diego State, with the last one coming in 2008, a 2-1 in San Diego
* The Rebels have not lost two games in a row since the end of September in 2015 – a span of 44 games.
* UNLV is now 4-2 on the road in 2017
* UNLV finished its non-conference slate with an 8-1 record, a program best through the first nine games, and an .889 winning percentage – also a program-best
* Rebels finished non-league play unbeaten at home at 5-0
* Rebels have 22 goals on 21 assists this year and are on pace to break the goals and assists records of 51 and 50 set just last year
NEXT FOR THE REBELS: UNLV returns home for a four-game homestand, beginning with its conference opener Friday night against Colorado College at 7 p.m. before wrapping up the weekend against Air Force at 1 p.m. Sunday afternoon.