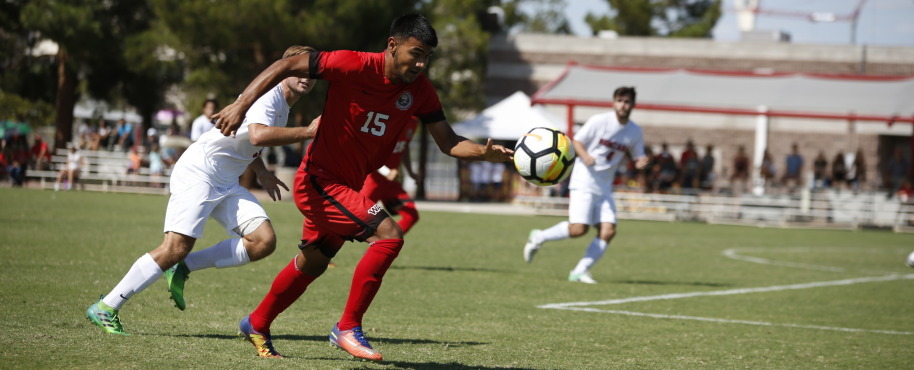 Rebels Blow Past Gonzaga 3-0
Marco Gonzalez scores first two goals of his career in the victory.
Sept. 17, 2017
LAS VEGAS (UNLVRebels.com) –
UNLV broke out of its scoring slump in emphatic fashion, as freshman forward Marco Gonzalez of Las Vegas sparked a 3-0 shutout of Gonzaga in the final game of the Johann Memorial Classic men's soccer tournament on Sunday afternoon at Peter Johann Memorial Field. The Rebels improved to 2-5 on the year with their first goals since the season opener and would finish second in the tournament standings. Gonzaga (4-3) placed third, due to UNLV winning the tiebreaker with the head-to-head win. Saint Francis (5-3) was named tournament championships with a 2-0 weekend record that included Friday night's 1-0 overtime win over UNLV.
THE TURNING POINT: UNLV scored the first goal of the game for the first time this season, allowing the Rebels to play while holding a lead just 13 minutes into the contest.
REBEL OF THE GAME: Marco Gonzalez, in his third career start, scored the Rebels' first two goals of the game, in the 13th minute off an assist by Timo Mehlich, and in the 66th minute thanks to an assist from Oscar Velazquez. Those were the first two goals of his career as well, and gave the Rebels a 2-0 edge.
STAT OF THE GAME: UNLV did not allow a shot on goal until the 88th minute, and held a 9-1 edge on shots on goal.
QUOTABLE: "It feels good to get my first goal, but it was more important to get the win, that's going to help us more for the rest of the season."
– UNLV freshman forward Marco Gonzalez.
"We've been trying to get goals all year and haven't had much success since Portland, so it was good to have that kind of performance today. As for holding our two opponents this weekend to just one total goal, obviously that's the kind of defensive effort we're going to have to play at to get to that next level, so we were very happy with the overall team effort these past two games."
– UNLV Head Coach Rich Ryerson
REBEL NOTES:
* The third goal of the game came from senior Oscar Velazquez, his first of the season.
* With the two-goal game, Marco Gonzalez is now the team's leader in points this season with five.
* Enrique Adame only had to make one save to earn his first shutout of the season.
* UNLV's three goals were its first since a 3-2 win at Portland on Aug. 25.
ALL-TOURNAMENT TEAM:
Mario Mastrangelo – Saint Francis
Lusca Rosa – Saint Francis
Kaelon Fox – Saint Francis
Marcus Rojas – Saint Francis
Marco Gonzalez – UNLV
Timo Mehlich – UNLV
Oscar Velazquez – UNLV
Ben White – Gonzaga
Jalen Crisler – Gonzaga
Detre Bell – CSU Bakesfield
Jeremie Charon – CSU Bakersfield
Tournament MVP – Mario Mastrangelo – Saint Francis
Offensive MVP – Marco Gonzalez – UNLV
Defensive MVP – Kaelon Fox – Saint Francis
FINAL STANDINGS
1. Saint Francis – 2-0
2. UNLV – 1-1*
3. Gonzaga – 1-1
4. CSU Bakersfield – 0-2
* – UNLV wins tiebreaker due to head-to-head win
NEXT FOR THE REBELS: The Rebels are on the road for the final time in September with a Friday night contest at CSU Fullerton. Kickoff is set for 5 pm and will be streamed live by BigWest.TV.