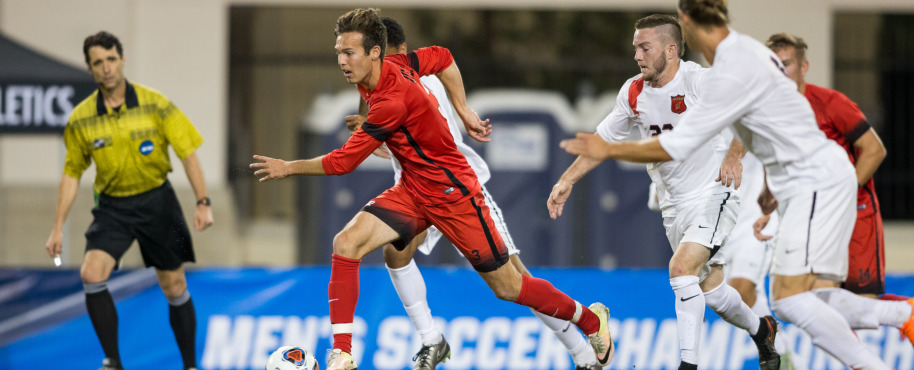 Musovski Ties Rebel Goal, Points Records In Rout Of Oral Roberts
Senior forward also tied the WAC mark for most goals in a game with four.
Sept. 24, 2017
LAS VEGAS (UNLVRebels.com) –
Senior forward Danny Musovski quickly made up for lost time, as in his first home game of the season the Las Vegas native tied a pair of school records thanks to a four-goal, nine-point outburst in leading UNLV to a 5-1 rout of Oral Roberts Sunday morning from Peter Johann Memorial Field. The Rebels dominated the game from the start, scoring their most goals in two years to close out non-conference play at 3-6 overall.
THE TURNING POINT: With the Rebels already leading 1-0, Musovski notched his second and third goals just four minutes apart, in the 34th and 38th minute, to blow the game open.
REBEL OF THE GAME: Danny Musovski had only appeared in four road games prior to Sunday's contest, but made sure to give the home crowd a good show in his first appearance on Johann Field this season. He opened the day's scoring with a blast in the 6th minute, and would finish the first half with his first career hat trick. Musovski then added a fourth score in the 47th minute when he tapped in a ball in front of the goal. That fourth goal tied him for the most goals in a game ever scored by a Rebel, as that feat was first accomplished by Doug Borgel on Oct. 20, 1989 against UC Irvine. Musovski added an assist on the Rebels' fifth goal to finish with nine points, which also ties him for the all-time record for points in a game at UNLV, also by Borgel in the game against UC Irvine.
STAT OF THE GAME: UNLV pounded the Oral Roberts goalkeeper all game long, as the Rebels finished with 31 total shots and 16 on goal, Thibaut Giquel would be credited with 10 saves in the net for ORU, while giving up the five goals.
QUOTABLE: "I felt like I owed it to my team while I was out, so four goals seems fitting, but more importantly it was a win for the team and puts us on good footing entering conference play."
– UNLV senior forward Danny Musovski
"Today's result was fantastic, Danny had a great game and I think the team played very well together. It's what we hope for when we're at home, a high scoring exciting game with lots of goals. Great day for us and great way to lead into conference and we're looking forward to Thursday and Houston Baptist."
– UNLV Head Coach Rich Ryerson
REBEL NOTES:
* UNLV has played two Sunday home games this season, and won both by a combined 8-1 margin (3-0 over Gonzaga on Sept. 17).
* Danny Musovski's hat trick in the first half was the first for UNLV since Sal Bernal on Aug. 31, 2014 at Bradley, and just the third overall in the last 20 years.
* Memo Diaz assisted on Musovski's second goal, while Marquis Pitt was credited with an assist on the third.
* Oscar Velazquez and Marco Gonzalez assisted on the fourth goal for UNLV. Velazquez then got in the scoring column in the 62nd minute with a long shot from the right side, off assists by Musovski and Gonzalez.
* The Rebels' five goals were the most since a 5-1 home win over Incarnate Word on Oct. 18, 2015 in Las Vegas.
* Musovski has now moved into fifth place at UNLV in career scoring with 93 points, into sixth place with 37 career goals, and seventh place with 19 career assists.
NEXT FOR THE REBELS: The Rebels have just one game this week as they open WAC play on Thursday, Sept. 28 at 7 pm against Houston Baptist at Johann Field. The first 100 fans will also receive a free UNLV beanie. The UNLV Soccer Foundation will hold a free tailgate party before the game, with free food, drinks and music. Admission is free to all ticketed fans.
Single game ticket prices this season are $8 for adults, $6 for faculty/staff and seniors, or a special internet price of $5 is available for all tickets bought online at UNLVTickets.com, good up to three hours before game time. Kids 12 and under are always free at UNLV men's soccer contests.