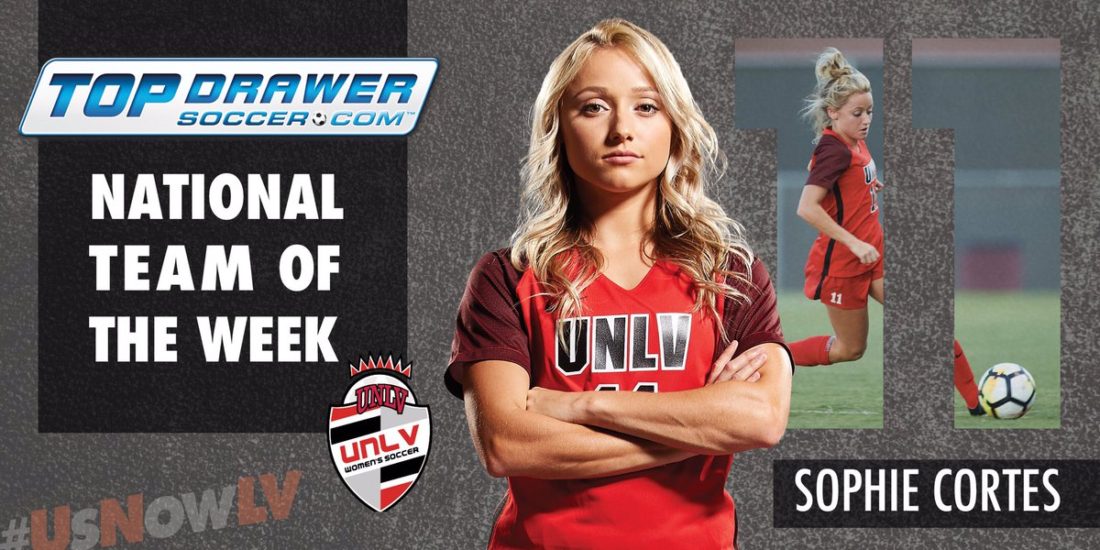 Cortes Named To National Team Of The Week
Senior Sophie Cortes is one of 11 players named to Top Drawer Soccer's National Team of the Week, the fourth Rebel to earn a nod this season.
Sept. 19, 2017
Cortes, a Newhall, California, native, has been an offensive force for the Rebels in 2017, helping the team to a program-best 8-1 record through non-conference play. Over the weekend, Cortes scored three of the Rebels' four goals, including both goals in the 2-1 win at CSU Bakersfield on Friday. Her third goal came on a penalty kick in the second half of Sunday's home contest against UC Riverside, putting the Rebels up 1-0 in the eventual 2-1 win.
The midfielder has registered career-highs in goals (7), assists (4) and points (18) this season and leads the Mountain West in all three categories.
With non-conference play behind them, Cortes and the Rebels will begin their Mountain West title defense on the road this weekend, facing New Mexico Friday, September 22 at 6:30 p.m. PT and league rival San Diego State Sunday, September 24 at noon.