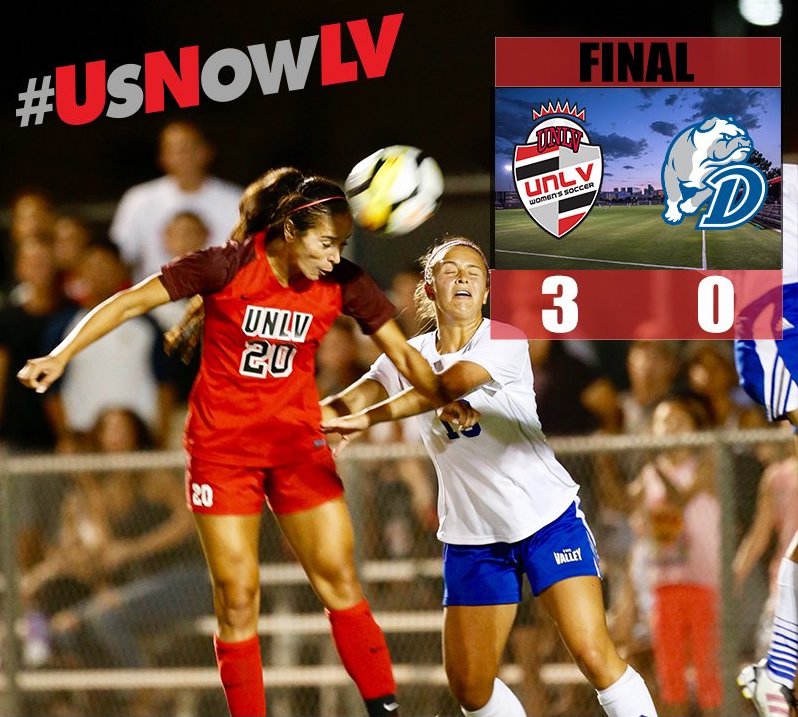 Second Half Explosion Lifts Rebels to Season-Opening Victory
The Rebels netted three second-half goals to beat Drake 3-0 at home Friday night in their 2017 season-opener.
LAS VEGAS (UNLVRebels.com) – 
The defending Mountain West champions opened the 2017 season in style 
Friday
 night with a 3-0 rout of Drake in front of a large and rowdy crowd at Peter Johann Memorial Field. Three second-half goals proved to be the difference as the Rebels won their season-opener for the seventh straight year.
UNLV seemed to pick up right where they left off last season when they had one of the most prolific offenses in program history. Friday's offensive output was a welcome sight as the Rebels try to replace the trio of 
Lily Sender
, 
Jordan Magnin
 and 
Susie Bernal
, who combined for 25 goals and 25 assists a year ago. Junior transfers 
Amanda Galbraith
 and 
Caitlyn Kreutz
 stepped right into the starting lineup and made an immediate impact, with Galbraith registering an assist and Kreutz netting her first goal as a Rebel.
THE TURNING POINT:
 After the first 50 minutes went scoreless between the Rebels and Bulldogs, a handball by Drake gave UNLV a free kick in their own third of the field. Sophomore 
Katie Ballou
 received a quick touch, made the turn and found 
Courtney Anderson
, who gave it back to a breaking Ballou. With no one coming to challenge Ballou, she blasted the ball from 35 yards out and it sailed right below the cross bar to put UNLV up 1-0.
STAT OF THE GAME:
 Three different Rebels (
Katie Ballou
 52′, Micheala Morris 66′, 
Caitlyn Kreutz
 88′) scored goals on four assists while the Rebels out-shot the Bulldogs 17-9.
REBEL OF THE GAME: Ballou entered the game midway through the first half and settled down a Rebel squad that seemed jittery through the first 20 minutes. Her perfect strike from well beyond the 18-yard box was a thing of beauty.
QUOTABLE:
"Overall, I'm pleased with the result and the performance. It was tough for us because this was our very taste of soccer this year and Drake was coming in off of two exhibitions, so we were a little jittery the first 20 minutes, but once we got to the water break and put Katie (Ballou) in, she settled things. We knew we weren't going to be a finished product on day one with so many new faces and this integration of new players, but 3-0 first game of the year, couldn't ask for a better result." – Head Coach 
Chris Shaw
REBEL NOTES: 
* The Rebels won their season-opener for the seventh straight year and have won all four season-openers under Shaw.
* Dating back to last season, the Rebels are unbeaten in 11-straight regular season contests.
* 
Michaela Morris
 scored in a season-opener for the second-consecutive year.
* Senior keeper 
Jordan Sallee
 played all 90 minutes, making two saves.
NEXT FOR THE REBELS: The Rebels will wrap up the UNLV Invitational Sunday, August 20 against Wright State at 1 p.m. at Peter Johann Memorial Field. Drake and Weber State will face off in the first game of the day at 10:30 a.m.