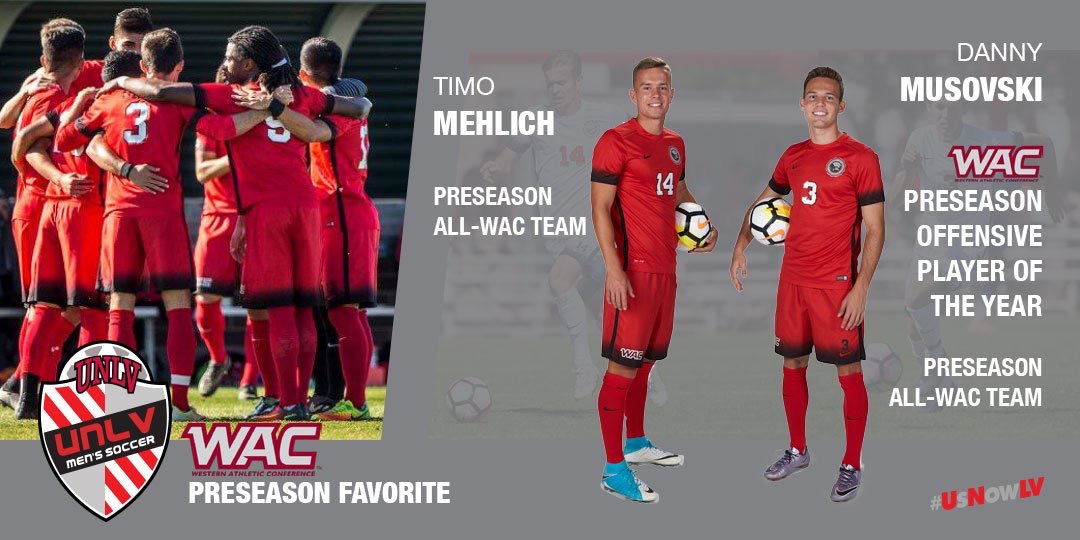 Rebels Preseason Favorites In the WAC
Musovski Named Preseason Player of the Year for the second time, Mehlich joins him on the all-conference team.
Aug. 15, 2017
LAS VEGAS (UNLVRebels.com) – 
For the first time in program history, the UNLV men's soccer team will begin the season as the favorite to win the Western Athletic Conference title as the Rebels were picked to finish first in the 2017 preseason coaches poll, the league office announced Tuesday. Senior forward Danny Musovski was selected as the Preseason Offensive Player of the Year, and he was joined on the Preseason All-WAC squad by teammate Timo Mehlich.
The Rebels return 10 of 11 starters from last year's squad that won their second WAC Tournament title in three years, and advanced to the second round of the NCAA Tournament, the first UNLV team to do so since 1985.
They received a league-best five first-place votes and 90 total points, just ahead of second-place Utah Valley with three first-place votes and 89 total. Close behind in third was Seattle with three first-place votes and 87 overall. Air Force was next with 72 while Grand Canyon came in fifth place with 70. Rounding out the poll, CSU Bakersfield was sixth (54), San Jose State seventh (37), UTRGV eighth (33), Incarnate Word ninth (29), and in a tie for 10th place was Houston Baptist (22) and Kansas City (22).
This is the second year Musovski, a native of Las Vegas, was named the preseason WAC Offensive Player of the Year, and it comes one week after he was selected to the MAC Hermann Trophy Watch List, also for a second straight year. He scored 30 points a year ago despite missing five games with an injury, after posting 12 goals and six assists. That includes the game-winning goal in the WAC Tournament against Air Force, which earned him WAC Tournament MVP honors for the second time in his career as well. Musovski was the Preseason Offensive Player of the Year in 2015, and would go on to win the postseason honor.
Mehlich, a native of Monchengladbach, Germany, is a sophomore midfielder for the Rebels, and was second on the team a year ago with six goals and three assists for 15 points. That earned him WAC Freshman of the Year honors as well as a spot on the all-conference second team.
UNLV was one of three schools (Seattle, Utah Valley) to place two players on the preseason All-WAC team, while Air Force had a league-high three. Grand Canyon and CSU Bakersfield had one player each named to the squad.
UNLV opens the season on the road for the fifth straight year, beginning with a Friday, Aug. 25 contest at Portland (7 pm), the first of four games for the Rebels in a five-game stretch against teams that played in the 2016 NCAA Tournament. The home opener will be on Friday, Sept. 8, against Pacific at 7 pm at Peter Johann Memorial Field. Once again the Rebel Soccer Foundation will host a free tailgate party before each home game, open to all ticket holders with free food and drinks.
Tickets are on sale now for the 2017 UNLV men's soccer season. Season tickets are just $35 for adults, $25 for UNLV faculty/staff and seniors. Single game ticket prices this season are $8 for adults, $6 for faculty/staff and seniors, though a special internet price of $5 is available for all tickets bought online at UNLVTickets.com, good up to three hours before game time. Kids 12 and under are always free at UNLV men's soccer contests.
2017 WAC Preseason Men's Soccer Coaches' Poll
Place Team (1st place votes) Votes
1. UNLV (5) – 90
2. Utah Valley (3) – 89
3. Seattle (3) – 87
4. Air Force – 72
5. Grand Canyon – 70
6. CSU Bakersfield – 54
7. San Jose State – 37
8. UTRGV – 33
9. Incarnate Word – 29
10. Houston Baptist – 22
Kansas City – 22
2017 Preseason All-WAC Team
Austin Dewing, Jr., F, Air Force
Paul Hoffmeister, Sr., F, Utah Valley
Niki Jackson, Sr, F, Grand Canyon
Tucker Bone, Jr., MF, Air Force
Sergio Rivas, Jr., MF, Seattle U
Nathan Aune, Jr., D, Seattle U
Jamie Carey-Morrell, Sr., D, CSU Bakersfield
Giovanny Vazquez, Sr., D, Utah Valley
John Wendt, Sr., GK, Air Force
Preseason Offensive Player of the Year
Danny Musovski, UNLV
Preseason Defensive Player of the Year 
Nathan Aune, Seattle