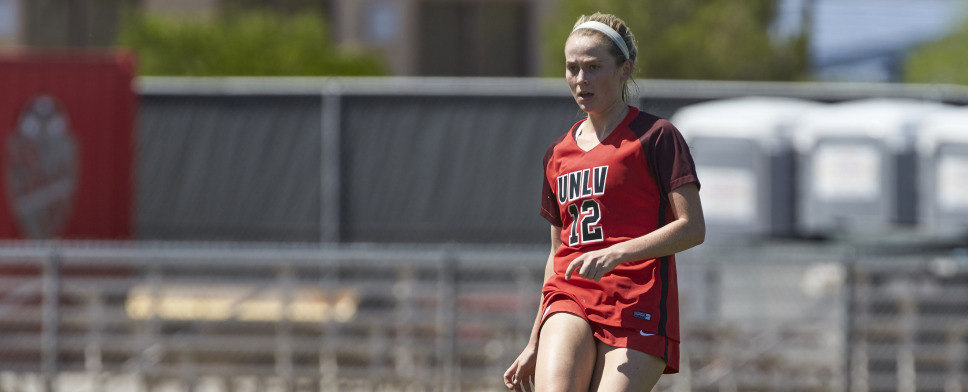 Rebels Hit The Road For The First Time in 2017
UNLV heads to Northern California for a Friday match at Sacramento State and a Sunday contest at UC Davis.
Aug. 31, 2017
LAS VEGAS (UNLVRebels.com) – UNLV women's soccer stayed perfect through the first two weeks of the season with wins over Utah Valley and Southern Utah to wrap up a 4-0 homestand to begin the year. The Rebels will head out on the road for the first time in 2017, traveling to Northern California for a pair of contests against Sacramento State on Friday, September 1 at 2:30 p.m. PT and UC Davis on Sunday, September 3 at 1 p.m. PT. Both matches will be live streamed. Visit unlvrebels.com for details.
UNLV (4-0) at Sacramento State (2-1)
Friday, Sept. 1 
2:30 p.m. PT | Hornet Field | Sacramento
UNLV leads the all-time series 2-1-0
UNLV (4-0) at UC Davis (0-4)
Sunday, Sept. 3 
1 p.m. | Aggie Soccer Field | Davis
All-time series tied 1-1
Last weekend's victories didn't come without some drama as it took a golden header goal by senior star Chidera Akubuilo with less than three minutes remaining in double overtime to beat UVU Friday night. Sunday's win against Southern Utah came a little easier at 3-1, but head coach Chris Shaw knows they need to continue to improve before they get into conference play.
The 4-0 start matches a program-best that was set just a year ago by the reigning Mountain West Champions. The two wins also extends the Rebels' regular season unbeaten streak to 14, dating back to last year. While Akubuilo was the hero in Friday's win, fellow senior Sophie Cortes was the team's MVP over the weekend, scoring three goals in the two games to earn her first career Mountain West Offensive Player of the Week honor. After the Rebels went down 1-0 three minutes into Friday's match against UVU, Cortes evened the score in the 17th minute, setting up the opportunity for overtime and Akubuilo's game-winning score. In Sunday's contest against SUU, Cortes scored goals 13 minutes apart, which ultimately proved to be the difference in the 3-1 game.
In addition to Cortes' conference honor, Akubuilo was tabbed a Top Drawer Soccer National Team of the Week selection. The Rebels also appeared in the United Soccer Coaches' West Region poll for the second straight week, coming in at No. 15.
SCOUTING THE COMPETITION 
Sacramento State enters Friday's match at 2-1 after three hard-fought games to start the year, including two overtime contests in its last two games. After a 2-1 win to open the season against St. Mary's, the Hornets lost a 3-2 double OT heartbreaker to Nevada, Reno, but bounced back with a 2-1 overtime win over Fresno State. The Rebels and Hornets last met in 2013, with UNLV coming out on top 1-0 in OT in Sacramento.
UC Davis goes into the weekend looking for its first win of 2017 after facing a tough slate the first two weeks, with losses to No. 3 and defending national champion USC, San Diego State, Portland and No. 19 California. UC Davis has also only managed one goal through four games. The Rebels and the Aggies are facing off for the first time since 2011, when UC Davis won at home 2-0.
STATISTICAL RANKINGS
NCAA: The Rebels currently boast a top-10 offense in the country, ranking tied for fourth in total goals (13), fifth in total points (39) and tied for sixth in total assists (13). Individually, Sophie Cortes is tied for second in the country in total points (11) and tied for eighth in points per game (2.75)
Mountain West: The Rebels lead the MW in nearly very major statistical category, including goals, points, assists and tied for first in goals-against-average (.75), while they are second in shots (85)
NEWS & NOTES
UNLV started the season 4-0 for the second straight season, matching the program-best start set just a year ago.
Dating back to last season, UNLV is unbeaten in 14-straight regular season games.
For the second consecutive week, UNLV nabbed the Mountain West Offensive Player of the Week award of the year with Cortes earning her first career honor after a three-goal performance.
Cortes has been stellar through the first two weeks, already matching her goal output from a year ago with four to go along with three assists. Her 11 points rank tied for second in the country.
Akubuilo earned Top Drawer Soccer's National Team of the Week recognition after another weekend of leading the UNLV back line and scoring the golden header goal in double OT to beat Utah Valley.
The Rebels are the only Mountain West team still undefeated through the first two weeks.
For the second straight week, the Rebels appeared in the United Soccer Coaches' West Region poll, coming in at No. 15.
Chris Shaw is in his fourth year with a 40-22-5 overall record.
The Rebels were picked to finish third in the Mountain West preseason coaches poll, their highest spot in the poll since 2013. San Diego State and San Jose State were picked to finish one-two, but UNLV's five first-place votes were the most of any school.
Akubuilo, the reigning Mountain West Defensive Player of the Year, collected several preseason honors. She became the first Rebel to be named to the MAC Hermann Trophy Watch List, the most prestigious award in collegiate soccer. She was also named to TopDrawerSoccer.com's Women's DI Best XI Third Team and is ranked No. 32 on the site's Women's Collegiate Top 100.
The Rebels return two All-Conference First Team selections in Akubuilo and Cortes, a second team selection in Jordan Sallee and two Mountain West All-Newcomer team selections in Paige Almendarizand Georgia Kingman.
Sallee also garnered preseason honors as she was ranked No. 66 overall and the No. 9 senior keeper on Everybody Soccer, a site dedicated to collegiate goalkeepers.