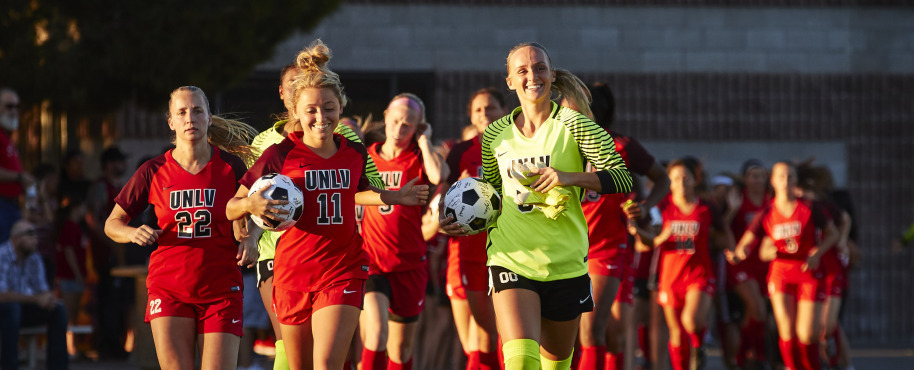 Rebels Face Pair of Utah Foes at Home
UNLV hosts Utah Valley Friday, August 25 at 7 p.m., and Southern Utah Sunday, August 27 at 1 p.m. at Peter Johann Memorial Field.
Aug. 24, 2017
LAS VEGAS (UNLVRebels.com) – UNLV women's soccer opened the 2017 season last weekend at home hosting the annual UNLV Invitational, where it turned in two dominant performances en route to a 2-0 start. The Rebels will be home for the second straight weekend, welcoming a pair of Utah schools to Peter Johann Memorial Field. The team should have revenge on its mind in Friday night's 7 p.m. contest against Utah Valley as the Wolverines handed UNLV its first loss a year ago after a 4-0 start. Sunday's 1 p.m. match against Southern Utah is also a rematch, with UNLV hoping to repeat the 2-1 result it had in Cedar City in 2016.
Utah Valley (1-1) at UNLV (2-0)
Friday, Aug. 25 
7 p.m. | Peter Johann Memorial Field | Las Vegas
UNLV leads the all-time series 3-2
Southern Utah (0-2) at UNLV (2-0)
Sunday, Aug. 27 
1 p.m. | Peter Johann Memorial Field | Las Vegas
UNLV leads the all-time series 6-0
The Rebels entered 2017 having to replace a combined 30 goals and 27 assists by the now departed Lily Sender, Susie Bernal, Jordan Magnin and Dakota Blazak, and if the first weekend was any indication of how they will fare, they have only reloaded.
After a jittery first half in the season-opener, UNLV settled down and played its game, scoring three goals over the final 25 minutes to shutout Drake 3-0. Sophomore Kate Ballou, who is returning from a torn ACL, sparked the offense off the bench with a spectacular goal from 40 yards out that sailed right under the crossbar to break a scoreless tie. Michaela Morris netted the second goal on a header off a beauty of a cross by newcomer Amanda Galbraith while fellow newcomer Caitlyn Kreutz added an insurance goal in the 88th minute. The scoring barrage continued in Sunday's contest as the Rebels scored four goals in the first 11 minutes, with two goals and an assist coming from Galbraith, in an eventual 5-1 win over Wright State.
For her two-goal, two-assists performance, Galbraith earned her first Mountain West Offensive Player Week honor and was named to TopDrawerSoccer's National Team of the Week. The undefeated start also helped the Rebels nab a No. 14 ranking in the United Soccer Coaches' West Region poll, a spot ahead of the University of Washington.
Visit unlvtickets.com to purchase tickets in advance.
SCOUTING THE COMPETITION 
Utah Valley opened the season in Hawai'i, losing a 2-1 heartbreaker in overtime, but bounced back with a 2-1 win over Houston Baptist to go 1-1 over the weekend. Sophomore Breanna DeWaal leads the Wolverines with two goals on the year.
Southern Utah heads into the weekend still looking for its first win of 2017 after an 0-2 opening weekend, dropping road games to UC Riverside (1-0) and Boise State (5-1).
STATISTICAL RANKINGS
NCAA: The Rebels currently boast a top-10 offense in the country, ranking tied for eighth in total goals (8) and total points (25) and tied for sixth in total assists (9). Individually, Galbraith ranks tied for 14th in the country in total points (6).
Mountain West: The Rebels lead the MW in every major statistical category, including goals, points, assists, and shots (47) while they are tied for second in goals-against-average (.50).
NEWS & NOTES
UNLV started the season 2-0 for the second straight season and for the third in four years under head coach Chris Shaw.
The Rebels are looking for a 4-0 start for the second straight year, which would match their best start in program history set last year.
For the second consecutive year, UNLV nabbed the first Mountain West Offensive Player of the Week award of the year with Galbraith earning her first career honor.
Galbraith, a junior college transfer, and fellow starting forward Caitlyn Kreutz, a San Luis Obispo transfer, made an immediate impact in their first action as Rebels, combining for three goals and two assists on opening weekend.
The United Soccer Coaches, formerly the National Soccer Coaches Association of America, released its first regional rankings of the year, with UNLV ranked No. 14 in the West Region.
Chris Shaw is in his fourth year with a 38-22-5 overall record.
The Rebels were picked to finish third in the Mountain West preseason coaches poll, their highest spot in the poll since 2013. San Diego State and San Jose State were picked to finish one-two, but UNLV's five first-place votes were the most of any school.
Senior Chidera Akubuilo, the reigning Mountain West Defensive Player of the Year, collected several preseason honors. She became the first Rebel to be named to the MAC Hermann Trophy Watch List, the most prestigious award in collegiate soccer. She was also named to TopDrawerSoccer.com's Women's DI Best XI Third Team and is ranked No. 23 on the site's Women's Collegiate Top 100.
The Rebels return two All-Conference First Team selections in Akubuilo and Sophie Cortes, a second team selection in Jordan Sallee and two Mountain West All-Newcomer team selections in Paige Almendariz and Georgia Kingman.
Sallee also garnered preseason honors as she was ranked No. 66 overall and the No. 9 senior keeper on Everybody Soccer, a site dedicated to collegiate goalkeepers
Freshman Erykah Browne was a member of El Salvador U20 team this summer, playing in a World Cup qualifying tournament in Nicaragua in June.