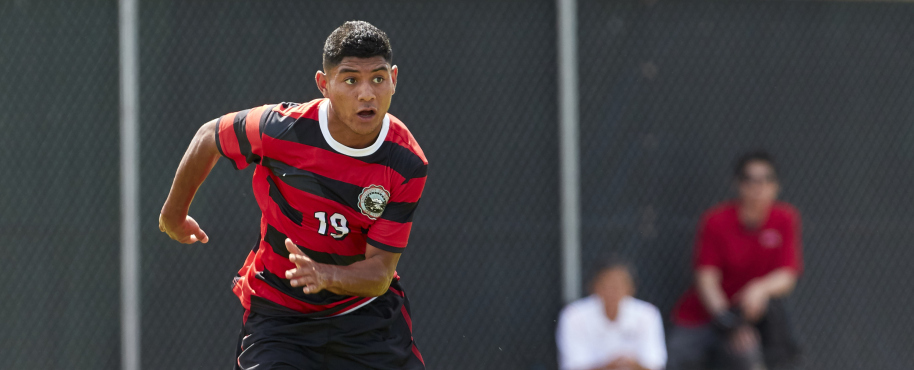 Rebels Drop Overtime Road Contest At Oregon State 1-0
UNLV will play a third straight road game on Friday at New Mexico.
Aug. 28, 2017
CORVALLIS, Ore. (UNLVRebels.com) 
Just three days after opening the season with a last second double-overtime victory, the 17th-ranked UNLV men's soccer team again went to extra time on Monday, but this time the Rebels were the ones on the wrong side of the scoreboard after Oregon State slipped in a shot in the 91st minute. That gave the Beavers a 1-0 victory over the Rebels, moving both teams to 1-1 on the season.
THE TURNING POINT: Oregon State sent a shot towards the center of the goal that Rebel goalkeeper Enrique Adame was able to deflect to the right. However, Jordan Jones collected the ball on the post, slipped off a Rebel defender and sent a low shot that banged through the feet of another Rebel defender before it was stopped just over the goal line, resulting in the score.
STAT OF THE GAME: UNLV was limited to just three shots in the first half, and only two total on goal for the afternoon.
REBEL OF THE GAME: Kevin Partida, finished with one shot, was directing the Rebels' efforts from the midfield against the Beavers.
QUOTABLE: "Disappointing after the win we had on Friday, to not get the result in OT. I thought the guys looked a little fatigued, I don't feel that we were as sharp as I would have liked to have seen us." – Head Coach Rich Ryerson.
REBEL NOTES: 
* The Rebels were held scoreless in a regular-season game for the first time since a 2-0 loss at Gonzaga Sept. 23, 2016.
* Just hours before the game, UNLV received its highest national ranking since 1992, as the Rebels are 17th in this week's Top Drawer Soccer Top 25 Poll. They moved in following the 3-2 double-overtime win over then No. 15 Portland to open the season on Aug. 25.
* UNLV's two games this weekend were part of the Hensor/Zaher Nike Classic. Named to the all-tournament team from UNLV were Danny Musovski, Daniel Moran and Marco Gonzalez.
NEXT FOR THE REBELS: UNLV will play a third straight game on the road when it takes on former MPSF rival New Mexico on Friday at 6 pm in Albuquerque.