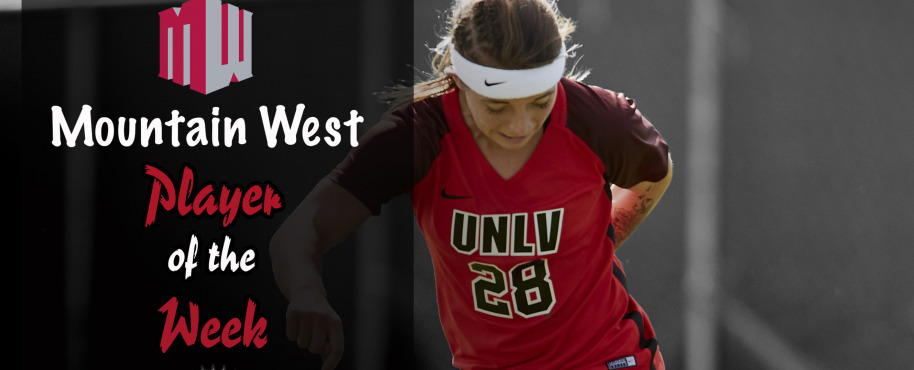 Galbraith Nabs Mountain West Player Of The Week Honor
Junior transfer Amanda Galbraith earns the league's Offensive Player of the Week award after scoring two goals to go along with a pair of assists in two Rebel wins over the weekend.
Aug. 21, 2017
LAS VEGAS (UNLVRebels.com) –
 UNLV women's soccer junior 
Amanda Galbraith
 wasted no time making an impact in her first weekend as a Rebel as she was named the Mountain West Offensive Player of the Week, announced by the league office Monday. The forward scored two goals and added two assists to help the Rebels go 2-0 on opening weekend at home in the UNLV Invitational.
Galbraith, a Petaluma, California, native, transferred to UNLV after two years at Santa Rosa Junior College in Santa Rosa, California, and earned a starting spot up front during preseason training. In Friday's 3-0 season-opening win over Drake, Galbraith had as good a cross as there is in collegiate soccer, sending it from the right corner to the front of the goal, where teammate 
Michaela Morris
 got her head on it for the goal and a 2-0 lead late in the game. Galbraith followed that with a two-goal, one-assist performance that propelled the Rebels to a 4-0 lead just 11 minutes into Sunday's match against Wright State.
Her first goal came in the third minute when she received a cross from defender 
Paige Almendariz
, took a touch and a quick turn and found the back of the net. Six minutes later, it was 
Georgia Kingman
 sending in the cross to Galbraith, who slid the ball right past the keeper to put the Rebels up 3-0. Galbraith wasn't done yet. On the ensuing kickoff she found herself with the ball about 40 yards out from the goal and no one challenging her and lofted a ball over the Wright State back line to a streaking Cortes, who easily finished the goal for the 4-0 lead just shy of the 11 minute mark. Galbraith was named the UNLV Invitational's Most Outstanding Offensive Player and was a member of the All-Tournament team.
This is her first career league honor and is UNLV's 48th overall.
The Rebels (2-0) are back in action at home for the second straight weekend, hosting Utah Valley Friday, August 25 and Southern Utah Sunday, August 27 at Peter Johann Memorial Field.