Shota Takada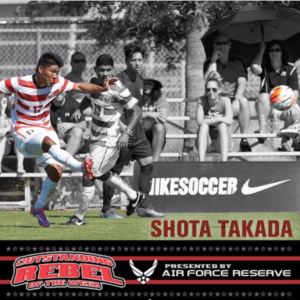 How did you get started in soccer? How old were you?
My uncle was a soccer coach in Japan where I started and right when I started the World Cup was taking place in Japan. I was 6 years old.
What made you choose UNLV?
The coaching staff as well as lifelong friends who had played here before me.
What is your major? Year in school?
Hospitality Management – Junior
What is your favorite color?
Navy Blue
Besides soccer what is your favorite sport/hobbie? Favorite type of food? Favorite song?
I Love to play golf.
Biggest accomplishment in soccer?
Win a WAC Tournament and Season Championship.
What are your life goals and aspirations?
To become a professional soccer player.
One word that describes you?
Loyal
What is on your bucket list?
To play professional soccer in front of my family one day.