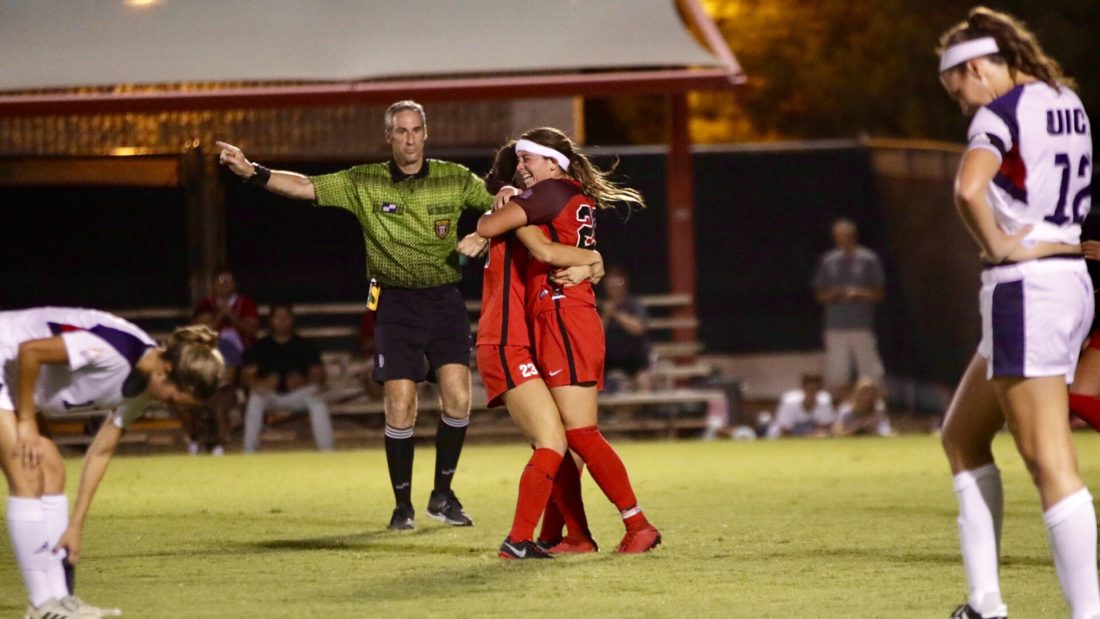 Rebels Score Five Unanswered In Season-Opening Victory
UNLV wins first game of the season for the eighth straight time
HIGHLIGHTS: All 5️⃣ goals – yes you read that right – FIVE in tonight's 5-1 season-opening victory over UIC at Peter Johann Memorial Field! Big thanks to a great crowd here tonight – come on out on Sunday for our match against Sacramento State at 1 pm! #BEaREBEL pic.twitter.com/P2xgy9fGDj

— UNLV Women's Soccer (@UNLVwSoccer) August 18, 2018
LAS VEGAS (UNLVRebels.com) – UNLV women's soccer started slow, but finished fast in its season opener at the UNLV Invitational Friday night at Peter Johann Memorial Field, beating UIC 5-1 thanks to a barrage of second half goals. The Rebels fell behind early after allowing a goal in the first 10 minutes, but the defense and freshman keeper Emberly Sevilla – making her first collegiate start – settled in and kept the Flames out of the net over the next 80 plus minutes, while the offense exploded for five unanswered to bury UIC.
The victory marks the eight straight year UNLV (1-0) has won its season-opening match, keeping head coach Chris Shaw's opening-game record perfect at 5-0. Three different players found the back of the net on the night – seniors Caitlyn Kreutz and Kaila Brinkman and sophomore Robin Pollard – with Pollard and Brinkman each netting two.
THE TURNING POINT: The Rebels didn't panic when they gave up the early score. After Pollard cleaned up a deflection of an Amanda Galbraith shot to tie it at one in the 32nd minute, Caitlyn Kreutz gave the Rebels the lead for good in the 61st minute, scoring on a second effort after her first shot was blocked by the UIC keeper. UNLV was off and running after that, with Pollard scoring her second of the night in the 73rd minute, followed by a pair of goals by Brinkman just over a minute apart over the final seven minutes.
REBEL OF THE GAME: Hard to not give it to both Pollard and Brinkman, but the slight edge goes to Pollard, who came off the bench to give UNLV a much-needed spark after the team came out flat early in the first half. In addition to the two goals, Pollard assisted on Brinkman's first score in the 84th minute – this coming after Pollard recorded just one goal all year as a freshman in 2017.
STAT OF THE GAME: Friday's five goals were the most scored by UNLV in a season-opening match in program history.
QUOTABLE: Head Coach Chris Shaw 
On the team rebounding from a slow start: 
"To be honest, we were a little disappointed with our first half, we felt like we got off to a slow start, but some of that is we don't play any exhibitions so it really was the first opportunity to play against opposition. That said – I felt like the second half was good, a lot of players came off the bench and came out with a lot of energy. We've got some kids that have definitely started to come into their own."
On Pollard's performance:
"Robin is someone I've coached and known since she was a freshman in high school. She's always had a great capacity for work, so she's going to run, she's going to chase and do anything she can to try to put the ball in the back of the net. The difference for her between last year and this year is her comfort level with the ball, her decision making and just being more tactically aware and that showed tonight."
REBEL NOTES: 
* UNLV is celebrating its 20th season in program history, with the official recognition taking place on Friday, Oct. 5 as the Rebels host Fresno State
* Dating back to the final game of 2017, the Rebels have scored five goals in two straight contests
* The Rebels dominated on the stat sheet out-shooting the Flames 22-8
* UNLV played 21 different players in the opener
* Sevilla became just the second true freshman in program history to start a season-opener, with the person she replaced – Jordan Sallee – being the only other keeper to share the honor