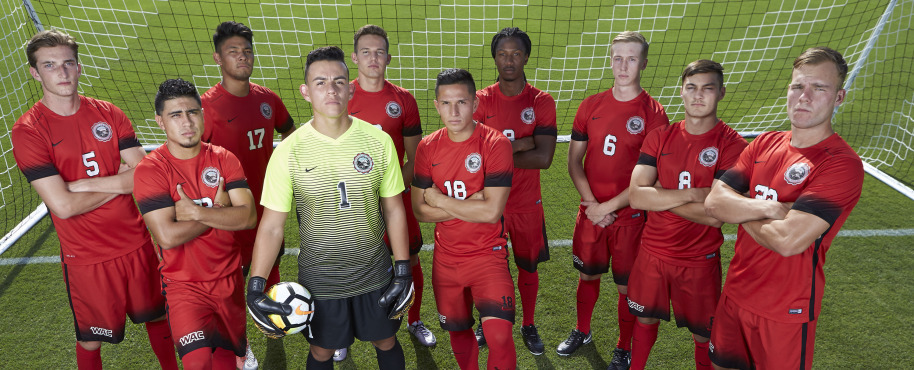 Opening Weekend Has Rebels On Road At Portland, Oregon State
UNLV, the preseason favorites in the WAC, are looking for their first-ever road wins over the Pilots and the Beavers.
Aug. 24, 2017
LAS VEGAS (UNLVRebels.com) – @UNLVRebelSoccer |  UNLV Weekly Release  |  Buy Tickets
UNLV men's soccer will begin its season by facing four NCAA teams from a year ago in the first five contests of the season. That includes Friday's season opener at Portland, which comes into the weekend ranked No. 15 by Top Drawer Soccer. A trip to Pac-12 member Oregon State Monday in a game televised nationally by the Pac-12 Network will concluded the weekend road trip for the Rebels.
The contest with the Pilots on Friday be shown locally in the Portland area on Comcast. Live video streams of both the Portland and Oregon State contests will be available as well off links at UNLVRebels.com.
The Rebels will be on the road against next week at New Mexico (Sept. 8), before hosting Pacific on their home opener on Friday, Sept. 8. The annual Alumni game is also set for that date as well, starting at 4:30 pm. Season tickets are on sale now and are just $35 for adults, $25 for UNLV faculty/staff and seniors. Single game ticket prices this season are $8 for adults, $6 for faculty/staff and seniors, though a special internet price of $5 is available for all tickets bought online at UNLVTickets.com, good up to three hours before game time. Kids 12 and under are always free at UNLV men's soccer contests.
GAME #1
UNLV (0-0-0, 0-0-0) at NR/#15 Portland (0-0-0)
Friday, Aug. 25 – 7 pm – Portland, Ore. (Merlo Field)
Live Stats – Live Video
GAME #2
UNLV (0-0-0, 0-0-0) at Oregon State (0-0-0)
Monday, Aug. 28 – 1 pm – Corvallis, Ore. (Lorenz Field)
Live Stats – Live Video