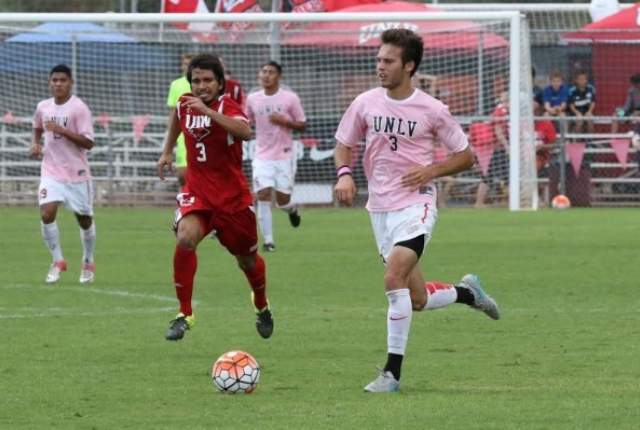 A New Era for UNLV Men's Soccer
The UNLV men's soccer team, like most non-revenue sports, operates on a humble budget that supports 25 players—15 of them being from Nevada as well as Las Vegas. Having such a localized team is not an orthodox way of recruiting, but Coach Rich Ryerson had no problem making them winners with this years' scoring record being 9-3-1 after a 5-1 victory over Incarnate Word on Sunday at Peter Johan Memorial Field.
According to the Las Vegas Review Journal UNLV made it to the NCAA tournament for the first time since 1988 last year. This feat was accomplished by key players such as Danny Musovski, a previous Las Vegas local high school and club soccer player. If the team keeps their steady climb they could achieve their second appearance at the NCAA tournament after going 27 seasons without qualifying.
Musovski, who came into college with 58 goals as a senior from Liberty High School, has displayed some of that talent by shooting 9 goals as a UNLV sophomore forward. He was ranked 11th in the nation for scoring and was in the WAC lead in goals heading into Sunday's match.
How high the UNLV program can reach is unknown, but with the support of the UNLV Soccer Foundation, the sky is the limit.
Frightening to think, just a short 4 years ago the program almost came to an end.
Their fate was hours from being sealed until Tim McGarry, a former Rebel soccer player in 1978-1979—who also writes checks to the Engelstand Family Foundation—wrote a check to the men's soccer program for $850,000.
With this change of events, Rich Ryerson saw an opportunity to take the program to the next level starting small resorting to the efforts of the teams players by selling fireworks. Today we are excited to say through the creation of the soccer foundation the program will never have to look back in fear of its future.
With a Board of Directors who hail from the wonderful city of Las Vegas, the foundation could not have had better guidance than from people who were either UNLV soccer players or just true lovers of the game.
The first goal of the foundation is to bring the soccer community together to celebrate the highest level of competitive soccer in the state. Secondly, the foundation will reach out to those who would like to offer their financial support to the program as we attempt to bring a national championship to UNLV, through the recruiting and development of talented local and international players.
Under the coaching leadership of Coach Ryerson, Connors, Schell and D'Amelio and the dedication from their players, the future is brighter than ever before. Go Rebels!